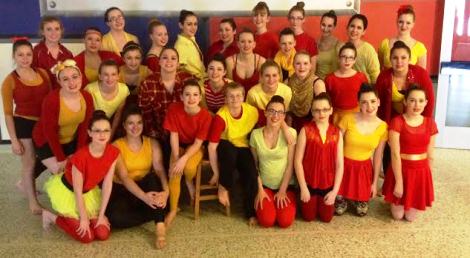 Raider Dance Company
News Release
*****
The Raider Dance Company from Chippewa Secondary School competed in the Kiwanis Dance Festival in Sudbury this weekend.
The Dancers (grade 7-12) represented CSS with pride!
Results as follows:
Jr. Jazz- "Bullet Proof" (Silver)
Jr. Modern- "I'm in Here" (Silver)
Jr. Lyrical- "Winter song" (Gold)
Sr. Lyrical- "Not Ready to Make Nice" (Gold)
Sr. Jazz- "Wings" (Silver)
Sr. Hip Hop- "Treasure" (Gold)
Company Musical Theatre - "Fixer Upper" (Gold)
Destiny Erny - Jazz "Party, Party, Party!" (Silver)
Sarena Peterson & Bailey Ruffo- Sheffield - Hip Hop "Werk" (Silver)
Kayla Lauzon Boucher- Lyrical "Halfway to Heaven" (Gold)
Erin Richards- Lyrical "Pieces" (Gold)
Meghan Johnson- Pointe "Moonlight Sonata" (Gold)
Kayla Lauzon Boucher & Katrina Langevin- Modern "Were Wolf" (Platinum)
Tiffany King- Contemporary "Liar" (Platinum)
Katrina Langevin Choreography "Peter" (Platinum)
Sarah Martin - Contemporary "She Wolf" (Platinum)
Special Adjudicator "Wow" Awards were presented to Katrina Langevin for "Unique Choreography", Sarah Martin for "Pure Passion" and to the Jr. Company for "Performance/Feeling"
Way to go Raiders. Live, Love, Dance!
*****