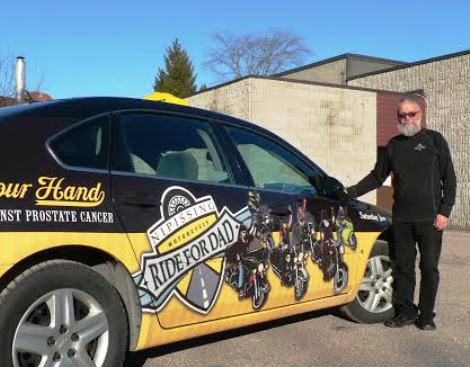 Motorcycle Ride for Dad co-chair Chopper Cameron inspects a newly painted U-Need-A-Cab taxi in support of the fight against prostate cancer. The ride takes place Saturday June 14th.
When Chopper Cameron was diagnosed with prostate cancer he says "the floor fell out from under me'.
Now a cancer survivor, he's a co-chair of the Nipissing Chapter of Ride For Dad, an organization he became aware of after his diagnosis.
"Prostate cancer is a needless killer for men," he says. "The more the community is aware and educated about prostate cancer, the less chance there is to lose the men in our lives to this terrible disease."
It's the most commonly diagnosed men's cancer, with one in seven Canadian men receiving the devastating news…a dozen die from it every day.
North Bay's Motorcycle Ride for Dad launched Wednesday at the Clarion Resort Pinewood Park.
This year's ride will take place Saturday June 14th from Canadian Tire and head to the waterfront.
"Everyone can participate," said Celebrity Ride Captain Mitch Belanger of The Fox FM radio, "riders and non-riders alike."
In addition to the ride there will be a silent auction, a meal and entertainment.
Last year the event raised $33,000. This year the target has been raised to $35,000.
Recognized for his fundraising effort was Mike Paterson, who has raised over $10,000 over the past seven years of the rides.
On May 31st a Show n' Shine will take place at Giant Tiger in support of the ride, and on Saturday June 7th a car wash and barbeque will be held at Mark's Work Warehouse.
"This ride attracts hundreds of motorcycle enthusiasts from our region that want to give back to their community," said Cameron. "But we also want non-riders to get involved by becoming a champion, making a donation, or volunteering in the event."
The Telus Motorcycle Ride For Dad is Canada's largest annual motorcycle event dedicated to fighting prostate cancer through research and awareness.