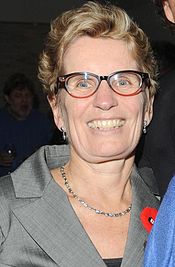 Wynne says there is no time tables on development dates for either ONTC and Ring of Fire at this point.
******
Premier Kathleen Wynne will be in North Bay to make an announcement Wednesday morning at Drillers Edge.
Wynne will then hold a few private meetings for the rest of the afternoon.
The BayToday team will be there to cover the event and will have follow up following the event.
You can watch the Live stream of announcement at 11:45am here: http://www.livestream.com/premierofontario
Meanwhile, Nipissing MPP Vic Fedeli says Wynne needs to tell Ontario Northland workers and their families when she will publicly declare an end to what he calls the ill-fated ONTC fire sale.