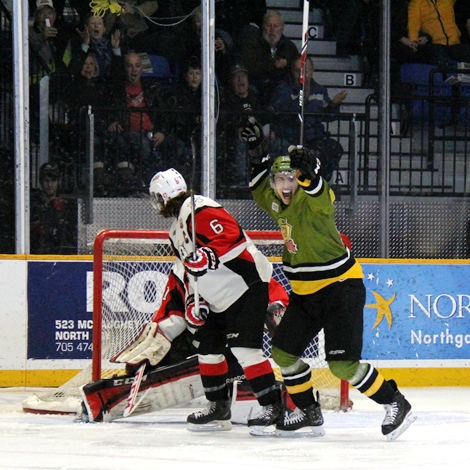 The look of absolute joy as the Battalion scores their first goal of the playoff series. Photos by Kate Adams.
Full story here
3 stars 1 Goodrow, 2 Smith 3 McIvor. Game 2 Sunday afternoon at Gardens. Goodnight folks.
Game over 4-0 Troops Lead best of 7 quarterfinal series 1-0.
Butler short shifting to end game. Smith strong in net. Announced att is 3,410. Very vocal.
Dogs on PP. Interference to Liberati. Troops kill. Now on PP. Standing ovation for Goodrow. Seven minutes left.
Troops back on PP. Superfan Bobby McIntyre leading cheers..
Third period underway.Crowd reminds me of old Centennial games. Very loud.
Dogs Cody Coron runs goalie Smith. Miller goes to teammates defense. Miller gets 2 for instigating, 5 for fighting and 10 misconduct. Second period ends 4-0 Troops. Shots 21-18Troops..
Goodorow scores shorthanded. 3-0 Troops at 12:48. Henriksson scores at 16:07 unassisted. 4-0 Troops.
Crowd going nuts, old-fashioned rock em sock em hockey. Penaly to Troops MacLeod for boarding. Troops score on PP. Dylan Blujus from Brenden Miller and Barclay Goodrow at 4:11. Troops score again at 4:40 Jarvis from Matt Santos and Riley Bruce. 2-0 Troops and back on the PP.
Second period underway. Having internet diffculties. Dogs come out strong. Smith a couple of great saves in close.
Nick Paul fires one over the net with two seconds to go. Period ends 0-0 Looks like Praplan out with the flu.
Fast-paced and highly enertaining game. No score, shots 12-5.
3:13 remaining. Great save by Smith on goalmouth scramble.
Troops kill successully.Dogs PP no threat. Shots 10-3 Troops.
Dogs kill penalty. Troops now short, on holding penalty to Riley Bruce.
Troops back on PP as Dogs shoot puck out of the rink for a delayof game penalty.
With 7 minutes gone Troops outshooting Dogs 8-2 with wide edge in play.
Troops on powerplay wth high sticking penalty to Dogs. Lots of pressure by Troops but penalty ends without a score.
Early pressure by Troops. Both teams trying to establish a physical game.
Game on.
Jake Smith in goal for Troops.
Refs tonight, Sean Reed and Brent Coloumbe. Warmup over, no sign of Praplan.
Not a sellout judging by the empty seats, five minutes to faceff.
Also scratched for the Troops Kyle, Locke, Shawn Tessier, Calvin Gomes and Mike Baird.
Starting lineup, at forward Connor Jarvis Jamie Lewis, and Matt Santos. On defense is Brendan Miller and Kyle Wood.
The North Bay Battalion are without one of their big guns as game one of the OHL quarterfinals with the Niagara Icedogs gets underway. No reason gven by Battalion officials as to why.