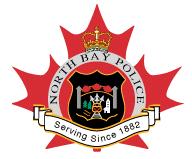 Police Chief Paul Cook is actively recruiting a candidate to fill the spot left vacant after former disgraced North Bay Police Service Const. Kris Corbeil resigned his position April 23rd.
The suspended constable with the North Bay Police Service, was charged with Threatening, Criminal Harassment and Causing a Disturbance in the family home on June 26, 2012 and in court was found guilty of assault and public mischief by making a false accusation that caused police to enter into an investigation.
"We obviously accepted that resignation subsequent to that he was sentenced by the judge to a term of incarceration through house arrest for six months followed by a period of probation so at this point, we terminated our employer employee relationship with Kris," Cook tells Baytoday.
"As you are aware he was facing a number of charges of misconduct under the Police Services Act now that he is no longer a police officer we have no jurisdiction over those charges, so in fact on May 9th there will be a teleconference involving our council perhaps Kris's council and hearing officer to have those charges stayed."
Cook says the whole process has been a trying time for both the North Bay Police Service and the public they serve.
"You know I think that we hire some outstanding people and for the most part complete confidence in our service both with the citizens of North Bay and Callander is at an all-time high and I think that that is in large part because the vast majority of our members to do outstanding work while on duty and off duty through volunteerism in our community each and every day," he states.
"But anytime you have an officer that strays and ends up finding himself or herself charged criminally that is front-page news in the media during that entire process, and it's been a long process, and certainly reading about the actions of this officer during this process would have eroded the public trust and confidence in our police service by some in this community."
"As the chief police you follow the processes that are in place to make sure that justice is carried out at the end of the day I believe that took place. As soon as we became aware of Constable Corbeil being involved in this instance we sent officers to investigate a very quickly we made the command staff decision to have Greater Sudbury Police Service come in and conduct the investigation for us."
"Kris was charged he was prosecuted by Crown attorney and he was eventually convicted and sentenced so at this point as I said the morning of his sentencing he made the decision to resign from our police service so we've turned this page were actually involved in recruiting process to hire candidate to send the way to the Ontario Police College for the basic Constable intake course in September to replace this position."
Cook says following the process also put a strain on the Service's bottom line and taxed other officers to fill gaps because under the Ontario Police Services Act officers facing criminal charges are suspended with pay.
"Certainly you have two issues at any time an officer is in this position where they find themselves suspended by chief of police -- you have to processes that follow that can be very long and arduous and they do erode public trust to some extent and confidence in your police service and there's the costs that are the costs that are born by the board in that under the current legislation when an officer is suspended while they're suspended with pay. So yes Kris has been our payroll and receiving a pay since June of 2012 when he was suspended so those are the two costs -- one is the financial cost and the other is the impact it has on your police service."
Cook says Corbeil is not the standard for the city's police service and that every day he challenges his officers to put themselves in the shoes of the many victims and people that they will be coming into contact with in their policing careers and treat them the way they would expect to be treated.
"And as I said I think the vast majority of our members do that each and every day and I think that the results of the survey we had done by Oracle pole last year where community satisfaction levels were at an all-time high reinforces that for the most part we are doing that but you know from time to time you do have an officer that stays from law and in those cases it's my responsibility as the chief of police to hold that officer accountable for his or her actions."
Under the terms of his sentencing Corbeil must surrender to a DNA sample, wear an electronic supervision device and serve18 months' probation.
He will also be banned from possessing weapons for three years have no contact with his wife.
He can only have supervised access to his children.
As well he must notify any changes of employment or address with police.