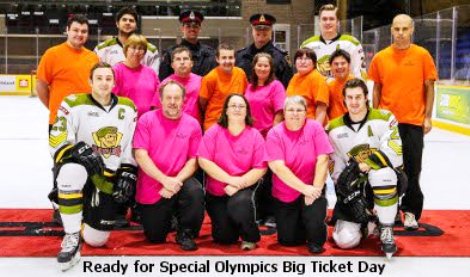 North Bay Police Service
News Release
*****
As a partner with Special Olympics Ontario and the O.H.L. the North Bay Police will be teaming up with local Special Olympians assisting them with the display tables and donation buckets at the North Bay Battalion and Niagara IceDogs game at Memorial Gardens Sun Jan 19th at 2:00 p.m.
North Bay Police Chief Paul Cook and Niagara Regional Police Chief Jeff McGuire have a gentleman's bet on the line.
"I called Chief McGuire, and we decided that the losing team's Chief would wear the opponents Jersey around town for a day" said Cook.
Constable Merv Shantz of the North Bay Police Service, the Games Manager for the upcoming 2015 Ontario Special Olympic Winter Games, said "The Big Ticket game is an opportunity to showcase city athletes and to promote the Winter Games that are coming to North Bay in January of 2015. The Battalion's participation, promotion and support of Special Olympics will raise awareness and help with the funding."
"This will be a fantastic opportunity to raise the profile of our local athletes, some of whom will be competing in the Winter Games. What a great way to bring together our community, our sports fans and our local Special Olympic Athletes." said Shantz.
Tickets can be purchased online at battalionhockey.com, at Battalion Headquarters on the second floor of Memorial Gardens or by phone at (705) 495-8603, extension 2700.
*****