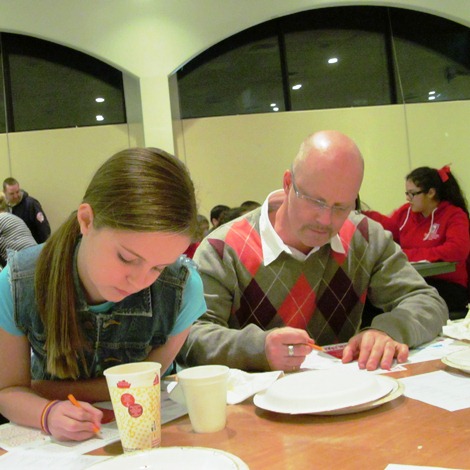 Madeline Tanner and her dad Steve test their knowledge of HIV/AIDS facts at Pizza4Patrick event Tuesday night at the Davedi Club.
Joining Juno-nominated singer/songwriter Glenn Marais the students of Widdifield Secondary School choir delivered a powerful message about HIV/AIDS in song during the annual Pizza4Patrick event Tuesday at the Davedi Club.
The song, which they wrote with in one day with Marais during the school's annual certification day earlier in the year, saw the students brainstorm and zero in on what living with the disease must be like and identified acceptance is a key factor.
"The words that they wrote really got the message the true meaning of humanity, acceptance and forgiveness," says Marais who was in awe of the students' talent and dedication.
For co-founder of the Patrick4Life Foundation Christine Fortin the whole effort summed up the work the foundation strives to deliver every day.
"The message is that we are empowering youth to talk to their peers about HIV/AIDS," she tells BayToday.
"Because today it is preventable,"
Pizza4Patrick hosted by the Youth4Youth committee was the first of many events scheduled throughout the week to mark AIDS Awareness leading to World AIDS Day Sunday, December 1st.
The AIDS Committee of North Bay and Area (ACNBA) will kick off thier Red Scarf Project and have the Official AIDS Awareness Week proclamation read by Mayor Al McDonald on Friday, November 29th at 10:00 am at the Main Street Parkette.
On Saturday, November 30th area Art galleries and tattoo studios will makr 'Day Without Art,' which pays tribute to those lost in the global arts community to HIV/AIDS.
World AIDS Day, a day which celebrates the advances in the struggle against HIV/AIDS, shows support for those living with and affected by the disease and commemorates people who have died.
World AIDS Day was the first-ever global health day and is now in its 25th year.
Patrick 4 Life AIDS Awareness and Education is a not-for-profit organization dedicated to educating youth about the prevention of HIV/AIDS, creating awareness through education, leadership, fundraising and partnerships.
For more information, please visit www.P4L.ca