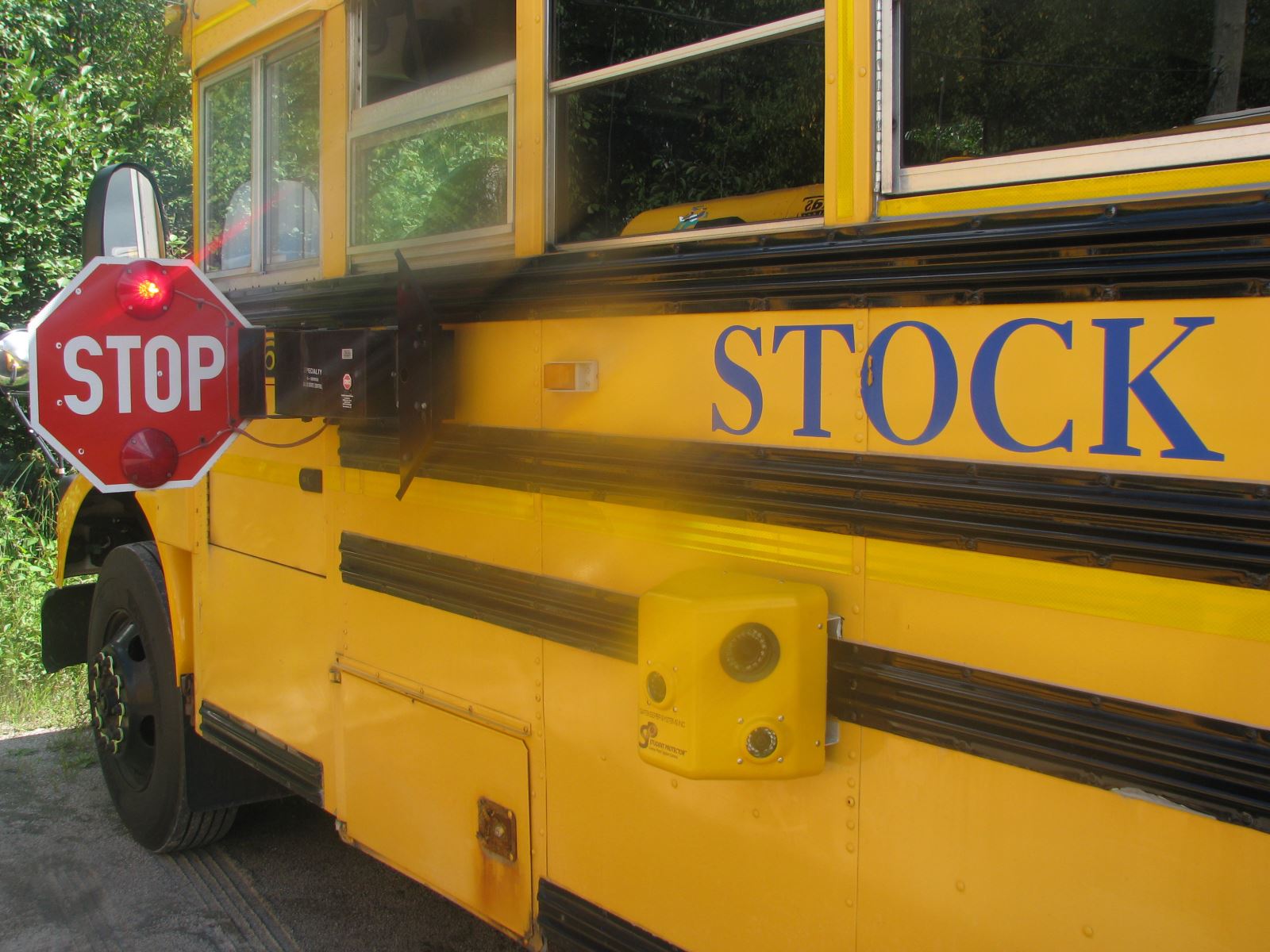 This camera is called 'Student Protector' and will be used on various bus routes as part of a pilot project in the North Bay area. PHOTO by: Jazz Mathon
Stock Transportation has a new weapon to catch dangerous drivers.
Beginning next week, some of their buses will be equipped with a high tech digital camera. It can take snapshots from many angles, including licence plate and most importantly; the driver who ignores the stop sign and flashing red lights.
"I would not exaggerate if I told you we have one incident reported per day, given 102 buses are out there on the road. It's all about the safety of the students," says Lena Cormier, who manages Stock Transportation in North Bay.
The camera is part of a pilot project called the Student Protector Program and was put in place by the Nipissing Parry Sound Student Transportation Service. Operation Manager Daniel Johnston says it chose Stock Transportation because of its size and number of routes.
"Our system is on loan from Gatekeeper Systems and has been installed on a Stock bus to capture pictures of these drivers. We are hoping that with a combination of strict penalties and media coverage, we will see the number of violations go down and create a much safer environment for our students."
Many bus drivers are thrilled with the new project, as it will only help in the prosecution of those who break the law and put students at risk.
"I think people will be more aware of everything around them, pay more attention," shares Christine Boulerice, who has been driving a school bus for the past 14 years.
Roger Adams has seen people pass his bus and is also optimistic the cameras will make a difference. "It's a major concern. It always seems to be three or four streets. This can put a stop to it."
Stock transportation oversees close to five thousand students per day. Cormier says if an incident occurs it does not take long to pass on their evidence to police.
"It only takes a matter of minutes and the quality of the video and details it actually records is pretty significant," adds Cormier. "With Stock Transportation it's a safety first policy and this feeds right into it. We're proud and quit happy to be a part of the pilot project."
Drivers who fail to comply with this law face stiff financial penalties of between $400 and $2,000 and six demerit points.