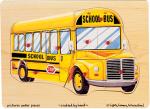 Nipissing-Parry Sound Student Transportation Services
News Release
*****
The Nipissing-Parry Sound Student Transportation Services (NPSSTS) and CUPE Local 1165-6 have agreed to continue their discussions towards reaching an agreement following today's (Friday) mediation meeting.
They have also agreed to suspend any potential strike or lockout action until August 31, 2014.
School bus operators are not impacted and will continue to provide safe and effective school transportation for the students of the NPSSTS's four member boards; the Near North District School Board, Nipissing-Parry Sound Catholic District School Board, Conseil scolaire public du Nord-Est de l'Ontario, and Conseil scolaire catholique Franco-Nord.
Parents and caregivers can expect that school bus services contracted to the NPSSTS will run as usual on Monday.
Questions regarding ongoing labour talks should be directed to the NPSSTS office at 705-472-8840 or to info@npssts.ca.
*****