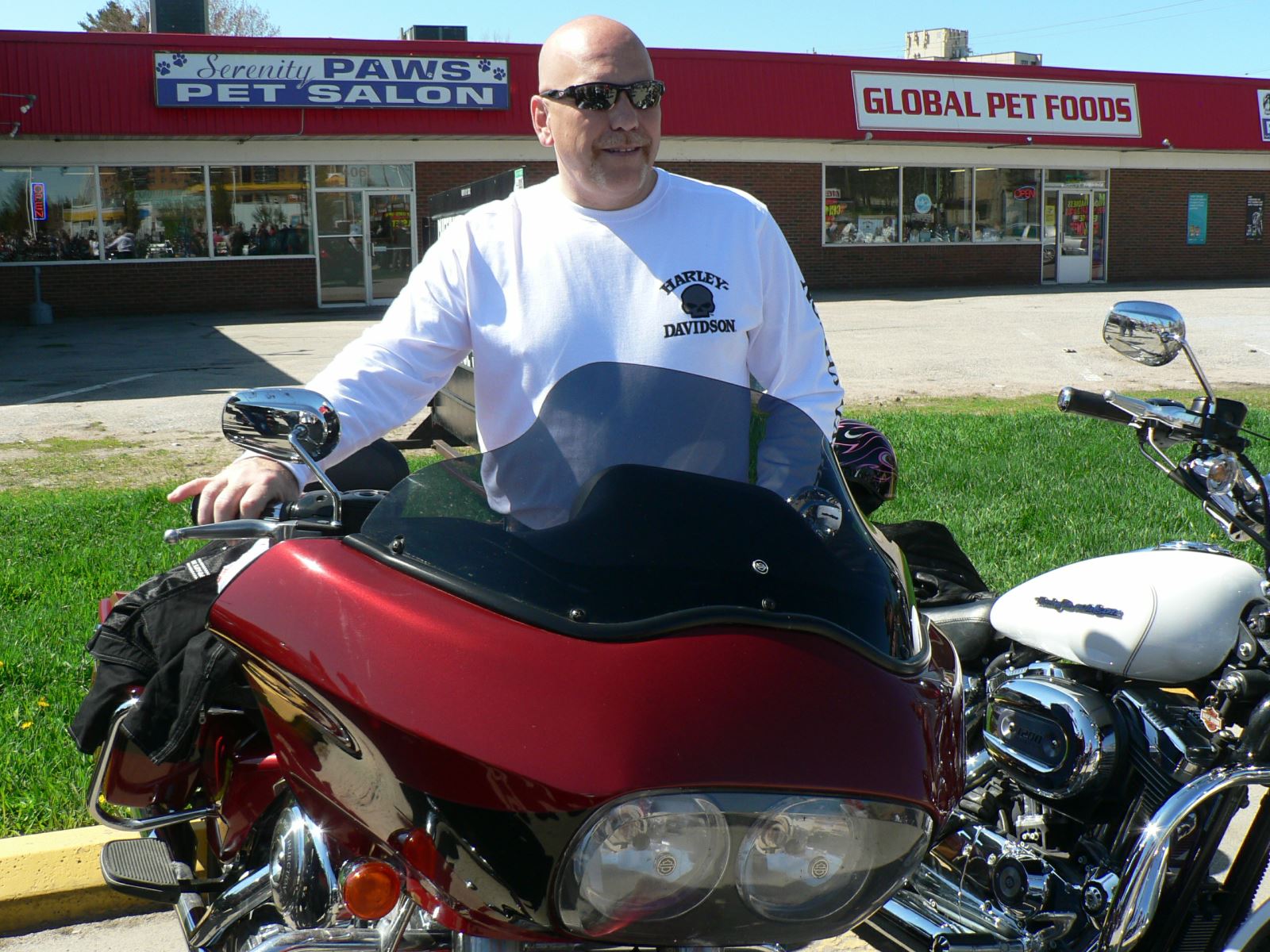 Avid rider John Strang on his 2006 Road Glide Harley-Davidson was one of over 400 motorcyclists who took part in the Papa Joe run Saturday. He's been involved for 19 years as a volunteer. Photo by Brenda Turl
Saturday was a perfect day for riding....sunny and warm. Exactly the kind of day Papa Joe Lefebvre would have been out enjoying his motorcycle.
And in his honour, over 400 motorcycles sat lined up in the Nipissing Plaza parking lot waiting for a signal that the 20th annual Papa Joe Memorial Ride for Cancer, The Final Journey, was underway.
"It's an emotional day for me," says event co-founder Don Lefebvre, son of the late Papa Joe. Lefebvre. "It's bittersweet, but all good things come to an end."
"He was not only my father but a good friend of mine. Dad seemed to leave a good memory with everybody cuz everyone seems to have a story about him. He was quite a character and an avid rider too."
Papa Joe died of melanoma cancer.
The Ride has raised well over $300,000 toward the building of the new North Bay Regional Health Centre, and outfitting it with medical equipment necessary for cancer care, The ride was expected to raise another $20,000 this year.
Funds raised this time will complete the commitment to the Seeing More Clearly campaign for diagnostic imaging equipment including the MRI. "We've always fulfilled our promises," says Lefebvre.
So why stop now?
"Twenty years is a nice round number." explained Lefebvre amid the roar of revving motorcycles. "And we did our thing. Twenty years is a long time doing this. I enjoy doing it, but it's just time to say good-bye."