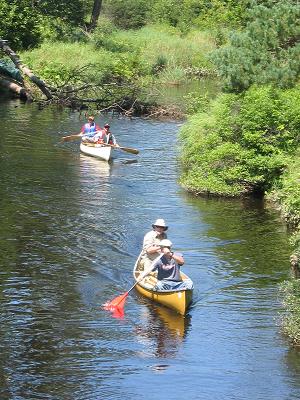 Kevin Callan will dip his paddle in and testing the waters of North Bay as the featured guest speaker at this year's Friends of La Vase Portages Canoe Night, this Friday (May 30th).
Callan, Author of a number of Canadian books on canoe routes around Ontario, will be sharing the lighter side of canoeing stories he encountered while paddling through seas of mosquitoes in Algonquin Park.
Chair John Wipprecht will also be updating on La Vase Portages for this summer, including their annual canoe day set for Saturday, July 19.
The new Friends of Temagami wall map and the Kiwanis Canoe Book will both be on display.
Organizer Chris Mayne says Callan contributed to the Kiwanis Canoe Book, the event is a great opportunity for folks to grab an autograph.
The event goes at 7:00 pm. at Calvin Church.
Tickets at the door $10 per person, $20 per family, with all proceeds going to maintaining La Vase Portages.
Details www.lavaseportages.com