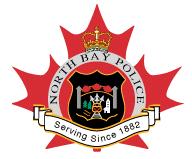 North Bay Police Service
News Release
*****
At 3:31 a.m. on 12th Feb a vehicle was observed travelling south on Lakeshore drive at a high rate of speed, then through a red light at Marshall Ave and failed to stop for the police when the lights and sirens were activated.
The vehicle continued on Lakeshore at a high rate of speed, then onto Premier Rd and turned onto Cherry Point which is a dead end.
The suspect vehicle collided with the police cruiser to escape the dead-end and turned back onto Premier Rd towards Lakeshore Dr.
A spike belt was deployed by another cruiser on Premier Rd near Lakeshore Dr.
The suspect vehicle travelled over the spike belt, turned south on Lakeshore then turned left onto Ferris Drive and right onto Booth Rd.
Three of four tires of the suspect vehicle were affected and had gone flat.
The vehicle had slowed down and was riding on the rims when the vehicle came to a stop and the driver fled on foot.
A foot chase resulted in the apprehension of the driver after he resisted arrest by kicking and fighting and a conductive energy weapon was deployed.
A search of the vehicle located small amounts of what is believed to be cocaine and marijuana.
Michael Hansen 32 years of Ottawa has been charged with flight from police, dangerous driving, assault with a weapon, fail to remain at scene of a collision, assault police resisting arrest, 3 counts of possession of a controlled drug, 3 counts of breach a court order, and impaired driving by drug.
He is being held in custody for a bail hearing.
Csts Dan Weber, Seth Dinsmore, Sue Solman and Steve Brown investigated.
*****