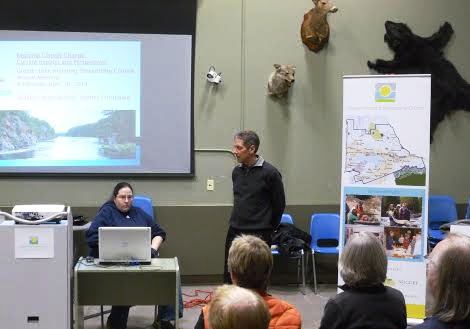 Greater Nipissing Stewardship Council
News Release
******
Peter Bullock, Senior Planner, with Stantec Consulting, shared his firm's research on regional climate change – current impact and perspectives – at the Greater Nipissing Stewardship Council's annual general meeting on Wednesday evening.
Mr. Bullock presented historical data and current trends to illustrate local climate changes we have already experienced and to project changes anticipated into the future up to 2080.
He commented that "Climate change is increasing winter runoff, moving the freshet earlier in the spring, creating a deepening drought in August, increasing precipitation in the fall/winter and causing runoff to be more erratic with greater extremes."
Bullock went on to say "climate change will change vegetation species composition, affect rates of recharge and groundwater storage, reduce cold water habitat and increase the regions susceptibility to natural hazards."
In summary, an abrupt change in 1997-98 has transformed the region into a new climatic period and the concept of "normal" is now outdated.
Climate is no longer static – it is now a dynamic variable.
We have been experiencing an unexpected extreme so far this year, which Mr. Bullock suggested may be a fluke year or a sign that something else at a global scale has shifted and opened the door to the Polar Vortex.
The complete presentation will be posted to the Council's website.
The GNSC is a charitable organization that partners with similar-minded groups and government agencies to implement environmental programs; provide information on conservation and sustainability; and to increase awareness of the ecosystem.
The Council relies upon its members and volunteers and partner organizations to implement many of its initiatives.
The greater Nipissing area encompasses Marten River to Trout Creek and Mattawa to Hagar, an area larger than Algonquin Provincial Park.
For more information visit our website at www.greaternipissing.ca or contact the Council at info@greaternipissing.ca
*****