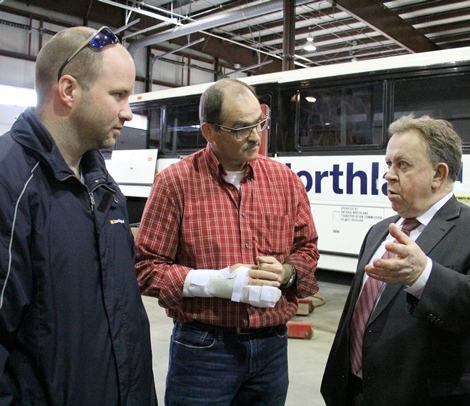 Minister of Northern Development and Mines Michael Gravelle was in town Friday to detail his 'A Sustainable Future for ONTC' about the Ontario Northland Transportation Commission (ONTC) with ONTC employees and city leaders.
Following lengthy and sometimes heated negotiations with his advisory committee, of which Mayor Al McDonald is a member, Gravelle announced that four of the five divisions will remain in public hands.
ONTERA will be sold while motor coach services, PBX, rail-freight and refurbishment will remain in public hands.
The province will make new strategic investments to ensure ONTC's transportation services and infrastructure continues to support economic growth in northeastern Ontario states the news release by the minister.
He further details that investments include more than $23 million over three years subject to annual budget approvals to purchase new motor coaches for its bus line and to refurbish real coaches for the polar bear express.
Proceeds from the sale included $6 million in cash and will result in long-term revenue to ONTC estimated at $10 million.
The province and Bell Alliant will each commit $15.1 million as part of a $30.2 million public private investment in telecommunications infrastructure in northeastern Ontario.
This will maintain and improve vital transportation services and provide new work for the ONTC refurbishment division.
"I am very pleased to announce that motor coach, PBX, rail freight, and refurbishment will all remain in public hands. Our government is prepared to support these lines with new strategic investments of over $23 million and I look forward to our continued work as we transform the ONTC. I am also very encouraged by what Bell Aliant will bring to support strong telecommunications services in the northeast, including a $30.2 million public-private investment in infrastructure," said Gravelle.
Video by Jamie Lyle.