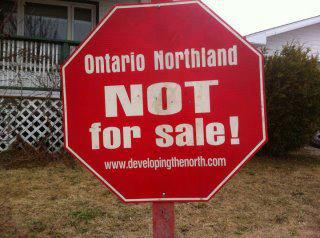 Ontario Northland pensioners are fed up, and say they have reached the limit of their patience with the provincial government.
"Although we were invited by Minister Gravelle last November to work with the MAC (Mayor's Action committee), we have no feedback to that input, and the Liberals still appear headed down the road to ONTC divestment, whether you call it "transformation" or "a firesale," claimed Ontario Northland Pensioners Assocization Chair Phil Koning.
"We're extremely frustrated," he told Baytoday.
Koning says the ONPA has been trying for over two years to get a meeting with ONTC Chairperson Ted Hargreaves, but cannot even get him to respond to their requests.
"The total disregard shown by Mr. Hargreaves to former ONTC workers, is in line with his failure to stand up for current workers by opposing the government's mishandling of the ONTC file," Koning added.
Koning says he bumped into the chairman at a local grocery store before Christmas and inquired about when they might receive a reply.
"He said "When they let me"
An effort by Baytoday to contact Hargreaves by phone by press time was unsuccessful. An answering machine said he was "unable to take the call".
The pension group, made up of both management and former union members, fears that if the ONTC is divested, it could trigger a windup of their pension plan.
"We're not sure what the obligation of the government would be if that's the case."
"If the Liberal government was truly serious about transforming ONTC to better reflect what the MAC Committee, ONTC workers and pensioners, had advised them to, they would not be abandoning Ontera and pretending to keep the rest of the company to buy votes," charged Koning.
Koning wants the ONTC to recruit a new business-minded Board of Directors, a new mandate, including economic development, and a new Memorandum of Understanding with the government to ensure transparency and efficiency.
"The pensioners have been recognized as a key stakeholder in the operations of ONTC, but are not given the same respect as other stakeholders in the region."
"We will be pursuing a position on the ONTC Pension Advisory Board, as supported by FSCO and forcing open the closed door policy of the current Commission." promised Koning.