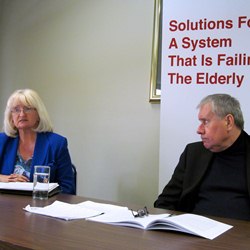 Pushed Out of Hospital, Abandoned at Home: After Twenty Years of Budget Cuts, Ontario's Health System is Failing Patients, is a study that chronicles the qualitative experiences of hundreds of Ontario patients and their families who called a 1-800 patient hotline.
The report which was released Tuesday at the Royal Canadian Legion in North Bay, delves into the impact of decades worth of cutbacks to the healthcare system in Ontario.
Study representatives Mary Cook (Ontario Association of Speech-Language Pathologists and Audiologists) and Michael Hurley (Ontario Council of Hospital Unions) explained the study, a joint initiative of the OSLA and the OCHU hospital division of CUPE, took place over a year where patients and or family witnesses called the hotline and shared their stories.
What they uncovered is similar stories across the board that the most vulnerable 'Ontario's elderly' from North Bay to Windsor to Cornwall, are being pushed out of hospital while acutely ill.
Both Cook and Hurley says over the last 20 years the province has cut 19,000 hospital beds, many of them assess and restore and continuing care beds, once the mainstay of convalescent care for older patients.
Today access to in-hospital restorative care and rehabilitation therapies is severely reduced and the promised "outpatient" services in the community and home are non-existent.
Cook and Hurley also note the elderly are not getting the rehabilitative therapies and restorative and convalescent care they need in fact they documented stories of age discrimination at play where younger patients being deemed priority and in most cases getting better and faster care.
"So like what is the system doing faced with pressure to accommodate people it's making a system choice," explains Hurley.
"Well you're a young guy you know you've got a young life ahead of you we'll make sure you're taking care of but you know grandfather oh you know we have to make some hard choices I mean that's really what the system is doing …So these people require care, I personally think it's untrue that you know that there's a legion of these bed walker's holding down beds."
"For sure there are people waiting for placement there are also a lot of people that the system is ignoring and each one of these stories is about people that the system refuses to treat."
"This leaves many elderly patients, who really should be cared for in hospital, abandoned at home, without the care and therapies they need," says Cook.
Both say it is not to late and whild Pushed Out of Hospital, Abandoned at Home points out inefficiencies at the same time the study offers substantive solutions to make health services better for patients, particularly the elderly.
Solutions for a Better Healthcare System:
Give the frail and elderly the in-hospital care and therapies they require.Reopen chronic and alternative level of care beds in hospitals so that frail patients with chronic conditions, those who need convalescent care, or who have suffered a stroke get the in-hospital restorative care and therapy they need.
Funds must be reinvested in hospitals so that critical speech-language pathology services can be provided to patients and delivered in a timely fashion before they leave hospital.
Improve access to speech language pathologist services in home care. This would ensure that patients who are discharged from hospitals, but who require rehabilitation type supports get them. Currently, most therapy services, including speech language pathology services, have seen decreases in referral rates through the Community Care Access Centres (CCACs)
Funding for healthcare should grow in real terms and keep pace with population growth. This could be achieved by establishing a reasonable expectation for hospital productivity improvements (e.g. 0.75% efficiency improvements per year) and then funding hospitals based on the required efficiency improvements along with funding for population growth, aging, inflation, and increased utilization. In the current situation, this will lead to significantly more funding than is currently provided, but will also prevent the current decline in healthcare from deepening.
Put funding into care, not profit by moving away from private for-profit delivery of home care, long-term care and pharmaceuticals. End competitive bidding in home care and return to a not-for-profit system. Today 75 per cent of home care service providers are for-profit. Since competition and for-profit were introduced in the late 1990's, billions of dollars in public funding has been siphoned into profit and away from care.
No rationing of care. Give those who need home care, therapies and services in the community the care hours they need, without being charged user fees.
Improve the quality of home care supports. To ensure continuity of care, standardize care quality and stabilize high staff turnover rates; personal support workers (PSWs) should be paid at institutional wage rates, have guaranteed hours of work and receive benefits and pensions.
Develop community hospitals as a hub for a range of healthcare services. This includes acute care, outpatient care, rehabilitation, complex continuing care, primary care, and long-term care services. A hospital hub model of care will promote the true integration of our healthcare system, allow economies of scale to be achieved, and ensure that community hospitals are able to attract the range of human expertise required.
Reduce hospital bed occupancy to 80% or less as is the case in other countries. This will reduce (a) hospital "crisis designations," (b) the cancellation of surgeries, (c) back-ups in the emergency rooms, (d) ambulance offload delays and "code reds," and (e) extra EMS costs for municipalities. This will also improve community access to long-term care homes and limit re-admission to hospital.
Assess and restore beds in hospitals should be increased. These less costly post-acute beds are designed to allow patients to recover enough so that they can return home (with the assistance of adequate home care). In contrast, long-term care facilities are residences where people live permanently; they are not curative facilities designed to transition people back to home.
Increase the development of new not-for-profit long-term care beds so frail and elderly people who need 24-7 residential care, receive it at a nursing home. The increase in long-term care bed capacity would not be a permanent, on-going need. Rather this increase in beds would be finite in order to deal with the care needs of ageing baby boomers.
Increase hospital restorative/rehabilitation professions and nursing care staffing levels to Canada-wide standards. Data shows Ontario patients receive 6.1 hours less care than patients in other Canadian provinces.
Make hospitals safer for patients by reducing infection. Hospital acquired infections cost more to treat than they do to prevent. Investing in increased cleaning and individual patient bathrooms would save lives, curb infections from spreading and save the health system money.
View the full report Pushed Out of Hospital, Abandoned at Home