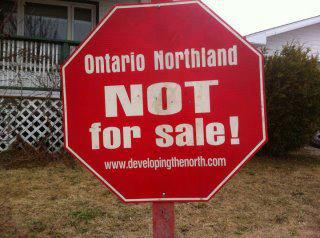 Ontario Northland Pensioners Association
News Release
*****
The ONPA wrote a letter to Min. Gravelle in which they asked to participate in the MAC.
In his response, the Min advised the government was not looking to expand the group, but the ONPA should work with their municipal representative to bring ideas forward.
As a result of that offer of limited participation, the ONPA forwarded to Mayor Al McDonald their thoughts regarding ON Rail Freight, the Northlander, and the North Bay Shop.
"The ONPA is pleased to be recognized as stakeholders in the future of Ontario Northland", stated Chair Phil Koning, "We are looking forward to the next phase of the process and assisting in evaluating the input received as an alternative to the MNDM divestiture plan" added Koning
The ONPA has been relegated to the sidelines since the government first announced their divestiture plan and is only now being recognized by virtue of Min. Gravelle's invitation to contribute.
Further input to the process will be received from CPCS Transcom, a consulting firm who was hired by MTO to assess the multimodal transportation needs of key economic sectors in Northern Ontario, including mining, forestry, agriculture and tourism.
http://www.cpcstrans.com/en/projects/northern-ontario-multimodal-transportation-study/
"This consulting firm is very well regarded in their field, but like any consultant, their results depend very much on the terms of reference spelled out in the initial contract". said Koning
"The tender for this study was put out when divestment was the only option for ONTC and that would diminish the role of the company particularly when it comes to rail intermodal and tourism opportunities."
The Auditor General, in her report on the ONTC divestiture stated "Until recently, the ONTC has not been actively involved in discussions regarding the Growth Plan for Northern Ontario, announced March 4, 2011,which included plans to develop a northern multimodal transportation study." (emphasis added)
"We want to ensure ONTC, as a public agency, receives full consideration of their role in the continued development of Northern Ontario". concluded Koning
The ONPA would like to publicly thank Mayor Al McDonald for his willingness to listen and his commitment to furthering the ONPA input to Ministers Gravelle and Murray for their consideration.
*****