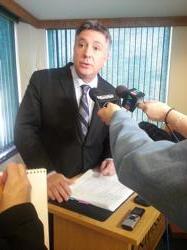 Finance Minister Charles Sousa was in North Bay Tuesday morning for a pre-budget consultstion with dignitaries from North Bay, also teleconferencing with a group in Sudbury, Thunder Bay. Michael Gravelle, the Minister of Northern Development and Mines was also dialed in.
Before taking submissions, Sousa discussed many issues addressing people in the province and particularly in the North. On the ONTC, he says he understands the concerns people have but that they also understand it wasn't sustainable the way it was operating.
"We had to make appropriate changes," he said, "We need to have the services and the passenger rail and the carrier service to the North. I get that, I want to see that continue. We want to make certain that it's sustainable and we want to make certain it's effective so we'll find ways to make that so." Sousa didn't offer specifics on timelines but that it's the sort of thing people in Northern Ontario are expecting and he'd "like to see that happen."
"We've put forward an advisory committee," he said, "Who are reviewing the particulars of the ONTC and I think that's appropriate work they're doing, and in collaboration with the communities to find ways to make it so."
He says he's been very clear in financial reports that illustrate the cost of the ONTC and the impact it has.
He also mentioned that one of his first duties was to hire a Financial Accountability Officer.
"I've been very transparent about (ONTC) and we need to be," he said, "In fact, we want to have even greater transparency in the things that we do so that initiatives like ONTC and others that are occurring are captured ahead of time."
He also discussed job growth in the province, pointing out that over 100,000 new jobs in the last year alone and 600,000 since the recession.
He says they still want to do more.
Sousa adds Ontario has become the lowest cost jurisdiction in the world by way of taxes, reducing tax for 90 per cent of small businesses in the province last month alone with the elimination of the Employer Health Tax.
"When we talk about the competitiveness of the province as it relates to those initiatives, we find that many companies want to invest in the province," Sousa said, "In fact, the province has become the most diverse by way of sectors, by way of manufacturing industrual strategies. We know that in order for that success to really take hold, we need a strong partner at the table. We need everybody at their best."
When the subject of gas tax came up, Sousa made it perfectly clear that "no one in the North or any rural community will be paying for transit in Southern Ontario."
"What we are doing is looking at alternatives to increase public transit and engage more capital improvements," he said, The communities in Southern Ontario will sustain and put forth their own initiatives cause the province wants to invest in Northern Ontario. We need to invest in roads and bridges and rail throughout the North as well as the rural communities. That's why we provided in our budget last spring, permanent predictable funding in those rural communities that don't take advantage or don't have gas tax so we understand the sensitivities, we understand the requirements, the competitive advantage to the province amd frankly, to Canada is that we provide these investments because there's been a huge capital deficit for many years that we've now been trying to correct but it's not going to be done with taxpayers from the North, they'll be done by the regional communities that are effected."
Sousa says they have to be "very determined and disciplined" to balance the budget by 2017-18 and work towards a more prosperous community.
But that only comes about as a result of investments, capital engagements and improvements and that $35 billion over the next three years has already been designated to do so.
Sousa says he's disappointed in the federal government, in how they're cutting services to the province and provinces like Quebec and Alberta are getting more money.
"Quebec is receiving $1.8 billion more than it did last year. Alberta's going to receive an additional billion dollars more than they did last year," Sousa recited, "The only province that is not (receiving more money than in past years) is Ontario and they're still cutting support for the Province of Ontario and in every other instances and circumstances that has occurred, they've added protection for those provinces that gets hit by those equalization payments and they ask Ontario to always step up and to provide support for those other provinces that are unable to meet the needs of that equalization number, and we've always done so."
He offers that there is encouragement as he travels across Ontario with many initiatives and similarities. Sousa says they're trying to work wihin the envelope that they have, to continue to provide valuable services that are necessary like health care, education, social services and businesses.
"I'll be meeting with the Chambers of Commerce, I'll be meeting with your Mayor," he said, "We're going to be talking about those economic development opportunities that we must grasp and take hold and that's critical for our overall GDP growth and that's whats going to make a difference."
He says now is not the time to make reckless cuts, nor is it time to be timid.
"We must be bold in these initiatives," Sousa said,"We must be smart in how we proceed."