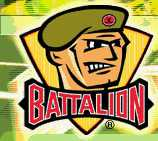 Goodrow on a nice feed from Paul and this series is tied 1-1!!!! 4-3 overtime goal. Paul feeds in front to Goodrow and he rips it past Nichols!
===
Battalion break out MacLeod with a hard shot that Nichols smothers. 17:57 left in first overtime period.
===
We are just over 1 minute in to overtime.
===
Battalion get some good work down low, Thomson with a close shot in tight, Nichols with the save.
===
Turnover off faceoff and Mitchell with 2 chances.
===
We are about to start overtime.
===
Again, Troops playing the type of game they want the Storm to play. Let's see if it shows on the scoreboard after overtime tonight.
===
Nick Paul speaks with Sportsnet's R.J. Broadhead. Here's what he had to say:
"We worked on the power play a lot, we can't give up and we have to take it to them and we have a great team and we will take it to them," said Paul in the Sportsnet interview.
"Smith has been standing on the head, giving us a huge boost and we are feeding off of it," Paul added talking about his goaltender.
===
Once again, Battalion outshooting the Storm. This time 37-23 after 60 minutes. Battalion 2 for 5 on the power play, Storm 0 for 2.
===
Yesterday, Jason Dickinson scored on the Storm's first shot in overtime. Will this one be a short one again?
===
Puck in Guelph zone against the boards and for 2nd straight game we are heading to overtime. 3-3 after 3 periods of play.
===
Goodrow to take a draw with Tyler Bertuzzi.
===
Blujus gets a shot away and another bad angle shot, is stopped and covered by Nichols. Thomson with the rebound shot. 17 seconds left in the 3rd.
===
Goodrow down the left wing gets a shot away on Nichols with 27 seconds left. Faceoff in Storm zone.
===
Jarvis goes wide, drives the net on his backhand but Nichols made the game saving pad save.
===
Puck rolling around slot in front of Smith but Battalion clear. 1 min left in regulation.
===
Good rush Troops, Thomson down low, but he loses in on a change.
===
Battalion get a great chance as Jarvis cut in front of Nichols but he came up big. 2 min left.
===
Energy line out late for the Troops.
===
We have 3:30 left in a 3-3 tie at the Sleeman Centre.
===
Battalion have scored some heroic late goals, late in the 3rd period. Is there another hero in green tonight?
===
4:29 left in the 3rd.
===
Miller and Thomson get the helpers on the equalizer at 14:32 on the PP.
===
Check out our feature on Paul earlier this week as the Dallas Stars are really excited with what they are seeing from the 2013 4th round pick of the Stars.
===
For Paul, that's goal #10 of the playoffs.
===
Battalion now have 3 power play goals in 2 games.
===
Nick Paul with a late PP goal with 5:28 to go. Paul comes in from top of the circle and goes far side on Nichols and it's 3-3.
===
Bertuzzi with a good shorthanded chance.
===
Blujus shot blocked and Storm clear it, 1 minute left in PP.
===
Battalion big line looking for 2nd power play goal of the game.
===
Trojanovic, flipped a puck over the glass and he will be called for delay of game with 6:55 left in regulation.
===
Lewis coming up the middle, similar shot he beat Appleby, and wired this one that was caught by Justin Nichols.
===
8:05 left in the 3rd period.
===
This game of course being broadcast on National TV on Rogers Sportsnet tonight.
===
Ebert with a good chance as his shot hits side of net past Smith. Less than 9 minutes left in regulation.
===
10:15 left in the 3rd, Top line out for Troops.
===
Jarvis-Santos-Lewis line gets some good work in Storm zone but it's cleared.
===
11:45 left in the 3rd.
===
Just under 6 minutes after that Fabbri recorded the go-ahead marker and that's where we stand, 3-2 Storm
===
Matthew Santos got things square at 9:17 with assists going to Lewis and Jarvis. Again the 4th line comes up big.
===
To continue the recap, Marcus McIvor cut the 2-0 lead in half with a late 1st period power play marker at 16:01.
===
Penalty over but Troops hemmed in.
===
Storm PP starts with some good puck possession, Shot by Leslie blocked and dumped by Kyle Wood, Paul without his stick.
===
Almost 1 minute into the PP and no shots. Goodrow with a nice clearing play.
===
Back to our game, Brenden MIller gets the high stick up on Brock McGinn and Miller goes for 2 minutes with 14:42 left in the 3rd.
===
Steven Trojanovic got the Storm on the board less than 2 minutes in. Robby Fabbri netted his 10th of the playoffs 11:56 of the 1st.
===
Storm built up an early 2-0 lead only to see the Battalion come back and tie it at 2-2 in the 2nd period.
===
With 16:07 left in the 3rd, Jake Smith covers up a puck on a funny bounce in the crease.
===
Better late than never. It's 3-2 Storm early 3rd period. Robby Fabbri with 2 goals so far for the Storm