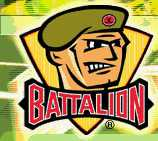 Dickinson came down the right wing and went high glove side on Smith for the game winner on a partial screen. Looked like harmless play as the shot came from just inside the top of the right circle and beat Smith on the short side.
===
This one is over, Jason Dickinson nets the OT winner on the first shot against Jake Smith 57 seconds in. Storm win Game 1 3-2 in overtime.
===
Thomson with a shot from right wing stopped by Nichols.
===
Ben Thomson with an early chance that goes over the glass.
===
We are underway in overtime.
===
We are less than 2 minutes to overtime puck drop.
===
For both teams, this will be their first taste of OT in the playoffs.
===
To recap.
Ben Thomson opened the scoring at 3:-03 of the second period as he blasted home a rebound off a Brenden Miller point shot.
However, just over a minute later Scott Kosmachuk blocked a clearing pass by goaltender Jake Smith along the wall, won a puck battle and fed Brock McGinn who wired a shot over Jake Smith to make it 1-1.
It stayed that way until early 3rd as Jamie Lewis again used a heavy shot to surprise Nichols to make it 2-1 Troops at 3:35.
The Troops continued to frustrate the Storm as they outshot the Storm 10-0 to start the 3rd period. However, the Storm offence is potent and Zack Mitchell got loose and slipped across the slot and put a shot upstairs past a screened Jake Smith to make it 2-2 at 12:23.
===
END OF 3RD
BATTALION 2
STORM 2
===
That's it. We are heading to Overtime.
===
Henriksson nice rush tried to go short side on Nichols with 30 seconds on clock.
===
Last minute of play.
===
Battalion have yet to play an overtime game in this playoff season.
===
Less than 2 minutes left in the 3rd.
===
McGinn gets a nice shot way, good blocker save Smith and penalty has expired. 2:33 left in 3rd.
===
Kosmachuk with a good chance down low, as Smith makes a nice glove save in tight. 21 seconds left in the power play and 3:03 in the 3rd.
===
Nick Ebert with a good chance but he missed the net.
===
Storm set up the power play.
===
Thomson will get 2 minute power play late here in the 3rd period. Score 2-2 with 4:43 left in the period.
===
Brock McGinn laying down in pain in the neutral zone with 14 seconds left in the Battalion power play. Thomson to what appears hits McGinn in the head. McGinn helped off the ice.
===
5:27 left in the period, 50 seconds left in Battalion PP.
===
Good chance, as Amadio robbed by Nichols.
===
Lewis-Santos-Jarvis line come out and get some momentum back as Scott Kosmachuk gets a charging call. Troops on PP. They have 1 PP goal tonight.
===
Storm get it back as Zack Mitchell nets his 11th with traffic in front as he cut across the crease and ripped it past Smith and it's 2-2, only 2nd Storm shot of the period with 7:37 left.
===
Not long after, big scramble in front of Battalion net which came off it's mourings. Nice save by Smith on Ryan Horvat. Their first chance over 11 minutes into the 3rd period for the Storm.
===
Paul with a nice one-timer turned away by Nichols. That's 10-0 Troops.
===
Battalion outshooting Storm 9-0 in the 3rd period so far.
===
9:29 left in the 3rd period.
===
After that early push in the opening period by the Storm, the Battalion have really played this game dead even against the Storm.
===
Battalion now outshooting Guelph 26-23.
===
10:41 left now in the 3rd. Face-off outside Storm blueline.
===
2 on 1 Praplan and MacLeod but #24 can't convert on the quick pass in front of Nichols. 9:30 gone in 3rd.
===
Almost 8 minutes in. still 2-1 Troops.
===
Nice pass to Praplan and his one-timer stopped by Nichols just over 5 minutes into 3rd.
===
It's Lewis' second goal of the playoffs, but his 2nd in the last 2 games.
===
Lewis of course netted the series winning goal late in the 3rd period of game 4 against Oshawa that ended that series.
===
Wow, 3:34, Jamie Lewis with a big 3rd period goal, puts one upstairs over the shoulder of Nichols for a 2-1 Battalion lead.
===
Battalion doing a great job blocking passes and getting sticks on passing lanes.
===
Penalty is over.
===
Battalion clear the puck down, now 10 seconds left in PP.
===
3rd period play about to begin.
===
Battalion outshoot the Storm 12-7 in the 2nd period. Shots 23-18 in favour of Storm after 2 periods.
===
Battalion will need to kill off 32 seconds of the Too Many Men call to start the 3rd.
===
Rogers TV talked with Storm forward Kerby Rychel during the intermission.
"They work hard and definitely clog up the middle," said Rychel about the style of play the Battalion are implementing.
"We got to keep shooting and we will get our chances. We need to get some traffic in front of their goalie and we need to shoot."
===
END OF 2ND
BATTALION 1
STORM 1
===
Period ends as the Storm try to move the puck around a nice chance on a one-timer blocked in front with no time left on the clock.
===
Shorthanded turnover, Thomson with a nice rush down the left side as he blasts a shot over the net. 45 seconds gone in the PP.
===
Looks like a Too Many Men Call, as Connor Jarvis will go to the box with 1:28 left in the 2nd.
===
Great chance for Bratina as Nichols was out of position. Bratina missed an empty net.
===
Shots now 20-15 for Storm, but Troops have outshot Storm 9-4 in the second.
===
6:04 left in the 2nd period.
===
Henriksson and Auger went off for roughing during that scrum.
===
Matt Finn, takes the puck away from Goodrow in the neutral zone, Finn uses McIvor as a partial screen but Smith stopped and smothered the shot.
===
18-10 shots on goal in favour of Storm.
===
Scrum in front of Nichols as Bratina goes after a rebound and Tyler Bertuzz takes exception.
===
Goodrow gets in through the left wing and Goodrow rips a shot that Nichols grabs with his trapper. 10:11 left in the 2nd.
===
9 minutes in now.
===
Storm 0/2 on the power play.
===
great chance in the slot for Fabbri as Smith makes another key stop as PP expires.
===
Storm don't get anything going in the first minute of the power play.
===
We are 5 minutes into the 2nd. It's 1-1.
===
Battalion go to the PK again as MacLeod called for tripping.
===
It was Kosmachuk who stopped the clearing pass by Smith and fed McGinn who wired it home at 4:07
===
Well, the Storm didn't take long to even things up Smith tries to clear the puck and McGinn takes a quick feed and blasts it past Smith it's 1-1.
===
The shot from Miller was stopped by Nichols who let out a juicy rebound.
===
Miller and Praplan are credited with assists on the power play marker at 3:06.
===
Ben Thomson nets his 5th goal as he puts home a rebound! 1-0 Battalion.
===
Amadio hammered along the boards courtesy Nick Ebert.
===
A chant of "Go Troops Go" can be heard by the Battalion visiting fans during the PP.
===
Battalion get 1st power play of the series as Jason Dickinson gets called for interference less than 2 minutes in.
===
Smith was best player on the ice keeping this game 0-0 after the 1st.
===
2nd period about the get underway.
===
The Battalion have now played 10 periods in Game 1's this playoff year without allowing a goal against.
===
Reminder as well that the Battalion are hosting a viewing party on Friday night for Game 2 of the OHL final. For $5.00 you can watch the game on the big screen at the Gardens. More details will be on BayToday Friday morning.
===
Other NHL connections on the Storm include Tyler Bertuzzi, who is the nephew of Red Wings forward Todd Bertuzzi. Also, Brock McGinn is the brother of Sharks forward Jamie McGinn. And finally, Kerby Rychel is the son of former Avalanche forward Warren Rychel.
===
Rogers TV talks with Barclay Goodrow in the intermission:
"I think we were a bit nervous and jittery making mistakes we didn't make during the playoffs," said Goodrow.
"I think we need to play a hard nosed game and need to get back to our game plan and go from there. After 1 period we are pretty satisfied."
===
The Storm have some fairly prominent NHL connections. head coach Scott Walker is a former NHLer and played with North Bay's Bill Houlder. Check out the story about Walker on our home page.
===
The Storm finish the opening frame outshooting Troops 16-6.
===
END OF FIRST
BATTALION 0
STORM 0
===
And that's the end of the first period
===
Ryan Horvat and Miller collide near the blue line, as Miller lands on his bottom. Less than a minute left in the opening frame.
===
Penalty expires with 1:38 left in the 1st period. It's still 0-0.
===
3 nice stops again by Smith as Kosmachuk tries to fake a shot and do the wraparound. Smith lost his stick and made a solid stop. Less than 30 seconds left in the Storm PP.
===
Remember, the Troops created all sorts of offensive chances on the PK in the Oshawa series.
===
Check that, Thomson gets the extra 2 and Storm get first power play of the OHL Finals.
===
Storm's Scott Kosmachuk with a nice shot and Smith stops him, then Brock McGinn on a wraparound attempt. Scrum after the whistle and off-setting minors go to Thomson and McGinn. Penalties called at 16:27.
===
Shots now 12-6 favouring the Storm. 16 minutes in. Still 0-0.
===
Ben Thomson down the wing and gets a nice shot away covered by Nichols but Thomson goes right to the crease much to the displeasure of the Storm. Almost 15 minutes in now.
===
Shots now 11-4 favouring the Storm.
===
Wow, Storm 4th line with some great chances as Chadd Bauman appeared to hit the post and Smith shortly after had to make another give save to keep it 0-0.
===
Robby Fabbri misses a couple good chances in the slot as the Storm put on some pressure nearly 13 minutes into the 1st period.
===
Storm assistant coach Bill Stewart tells Rogers TV that the Storm have to focus on a North-South game and a East-West game will work right in the hands of the Battalion.
===
We are 10 minutes in.
===
Kosmachuk gets a shot just across the blueline through the legs of Miller and Smith covers up.
===
Fan bus arrived at the Sleeman Centre tonight around 5 pm.
===
Shots early are 5-1 in favour of the Storm.
===
We are 7 minutes in still 0-0.
===
A line that was solid in the Niagara series is re-united as Henriksson-McKenzie-Bratina get back together as a unit in the OHL Final.
===
Shot from the point, Nichols struggles with his first shot and Storm lucky as a loose puck in the slot was cleared away from danger in front of the Storm net.
===
Horvat with a great chance on a feed from Tyler Bertuzzi. Just over 2 minutes in.
===
Off the ensuing faceoff, Kosmachuk rips a shot that goes off the post. Great pressure only 30 seconds into this game.
===
Right off opening face-off Kerby Rychel with a great chance but Smith with the save only 10 seconds in.
===
The undersized duo of Jake Smith and Storm goaltender, formerly of the Soo Greyhounds, Justin Nichols are the starters.
===
Good news up front for the Battalion as Zach Bratina comes back into the lineup after missing the entire Oshawa series after receiving a concussion in game 5 of the Barrie series.
===
Battalion and Guelph Storm just getting ready to drop the puck