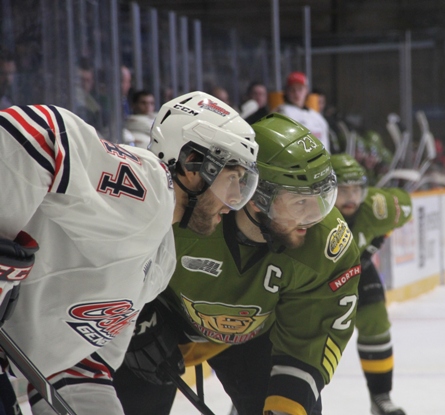 Barclay Goodrow sits 3rd In OHL playoff scoring with 21 points going into the final. He's the only Battalion player in the top 10 playoff scoring. The Storm, who have averaged nearly 5 goals per game in the playoffs, have 5 players in the top 10 scoring. PHOTO BY CHRIS DAWSON.
The Storm scored the most goals in the OHL since the turn of the century, and their playoff run is no different.
With 5 players in the top 10 in OHL playoff scoring the Battalion will have its hands full with arguably the top offence in the Canadian Hockey League this season.
But the Battalion won't be relying on individual skill that Guelph provides in the form of Kerby Rychel, Jason Dickinson, Zack Mitchell, and rising 2014 NHL Draft prospect Robby Fabbri.
What the Battalion do have is arguably the best team game going in the CHL.
"We aren't a team of superstars, we are a team that works extremely hard, it helps that the team is as close as we are and I think we want to win for each other just as much as we want to win for ourselves and I think that has made us successful so far," said captain Barclay Goodrow during the league final conference call on Tuesday.
On the blue line, the Storm is led by Maple Leafs top prospect Matt Finn along with Zac Leslie, Nick Ebert and Steven Trojanovic.
They are skilled and responsible in their own end.
Don't expect 2 or 3 breakaways per game like the Battalion mustered against the Generals defence in the Conference Finals.
Battalion head coach Stan Butler really likes his defensive corps too, but he doesn't feel he has the depth that the Storm has on the back end.
"They are as good of a group of 6 defence men that I have seen," stated Butler during Tuesday's OHL Final Conference Call.
"We rely pretty much on 5 guys in the sense that Blujus plays with McIvor, that's a solid top pair. Kyle Wood is a draft eligible player with Brenden Miller and Miles Liberati,we picked up from London," added Butler about his top 5 that is supplemented with 16-year-old Riley Bruce and former Guelph Storm defenseman Kyle Locke.
"I think they are stronger as a group than individuals and I think they have matured over the years, they are doing the little things like Scott said they need to do, they block shots, they make the quick first pass, they defend well but they haven't played a team like Guelph yet so as I've told them this challenge will be something that they haven't yet seen and its going to be up to them how they respond."
Nichols and Smith playing big
The goaltending matchup in this OHL final seems to indicate that size isn't everything when it comes to goaltending.
The Justin Nichols-Jake Smith matchup will pit a pair of the smallest OHL netminders going head to head to earn a ticket to the Memorial Cup.
Stan Butler loves to compare Smith to the small but mobile former Red Wings goalie Manny Legace.
"He's very athletic, he's a smaller goalie who moves well around the net. He's a competitive kid and he's done a great job for us," said Butler about his goalie.
"I always believe goalies need help from their other 5 guys and I think when you play good team defence and you get good saves it gives you a chance to win and for us that's what Jake has done for us throughout the playoffs."
Storm coach Scott Walker doesn't put any stock in goaltenders size.
"I don't care if he's 2-foot tall or 6 foot 8, if he stops the puck that's the system and style that I like," said Walker.
"Our guy has been real good, he's bounced back from below average games and bounced right back for us, but so has our team so he's done a heck of a job their guy (Smith) has done a heck of a job so I don't think size matters, if you stop the puck with the back of your foot or the bottom of it or your head, I don't really care as long as it stays out of the net. Size or style does not matter to me."
Smith holds the advantage with a stingy 2.01 goals against average, compared to Nichols' 2.65 GAA. However, Nichols holds the edge with a .921 playoff save percentage.
Smith though, goes in with a perfect 3-0 record and 3 shutouts in all 3 opening games of this playoff season.
TSN OHL Final Conflict
While Rogers Sportsnet will broadcast Game 2 of the series live nationally, their rivals at TSN will have much more at stake than just viewership ratings.
That's because TSN veteran play-by-play man Chris Cuthbert is a part-owner of the Guelph Storm while TSN Hockey Insider Bob McKenzie just happens to be the brother-in-law of Battalion assistant coach John Goodwin.
"Well I am sure Chris will be cheering for the Guelph Storm but talking to Bob and my nephew who coaches in Kitchener, you know, I guess blood is thicker than water right so they will be cheering for us for sure," said Goodwin prior to practice on Sunday.
Puck drop is set for 7 pm at the Sleeman Centre on Thursday, May 1st.
Once again, BayToday.ca will provide a detailed live blog and post game report.