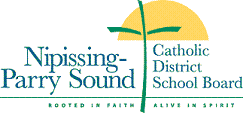 Nipissing-Parry Sound Catholic District School Board
News Release
*****
The Nipissing-Parry Sound Catholic District School Board invites interested parents and community members to a Special Board Meeting on Tuesday, April 22, 2014 at St. Joseph-Scollard Hall, 6:30 - 8:30 p.m.
This meeting will provide an opportunity for the Board to receive public input in the form of written submissions or delegations on the Accommodation Review Committee's Final Report and the Director's Report and recommendations for the Accommodation Review of Corpus Christi and John XXIII schools.
Both of these documents are available on the Board's website at www.npsc.ca under the Accommodations Review link.
This meeting for public input will be structured to encourage input and feedback.
Guidelines for making a presentation at this Special Board Meeting are available on the board's website.
Members of the public wishing to present may also request these guidelines from the Director's Office at (705) 472-1201, ext. 2243.
It is important to note that written submissions must be received by the Director of Education no later than Wednesday, April 16, 2014.

Special Board Meeting for Public Input
Tuesday, April 22, 2014
6:30 p.m.
St. Joseph-Scollard Hall Cafeteria
675 O'Brien Street, North Bay
*****