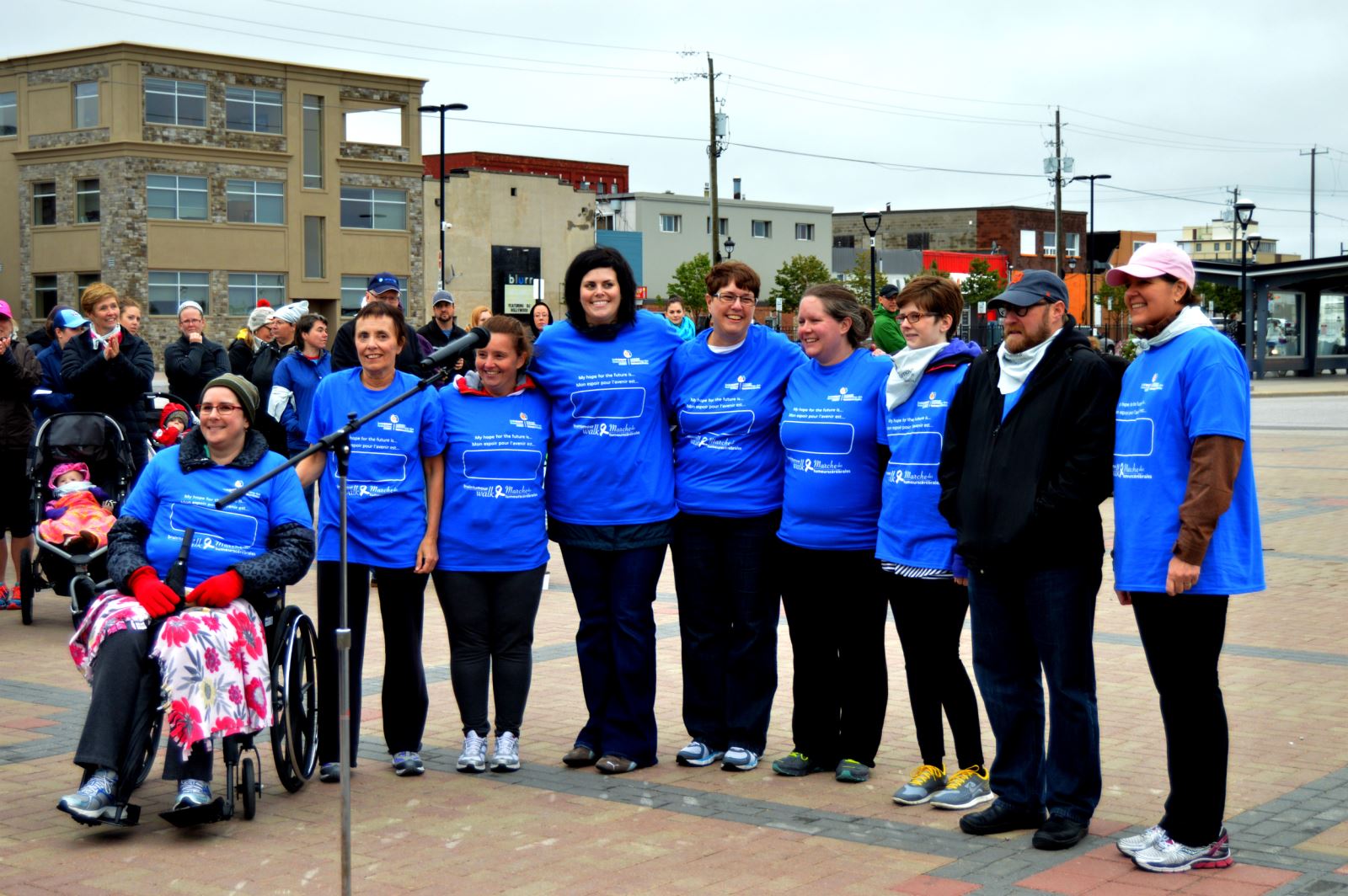 Some of the local brain tumour survivors gather before the inaugural North Bay Brain Tumour Walk on Sunday morning. The event raised a total of $15,859 for the Brain Tumour Foundation of Canada. PHOTO BY LIAM BERTI
It has all happened so fast for Jen Brown.
About a month and a half ago, she received a phone call from her doctor notifying her that her consistent headaches were, in fact, the result of a brain tumour. Then, just 10 days ago, she successfully underwent surgery in Sudbury to remove the tumour.
And yet incredibly, she joined the nearly 175 runners and walkers of the first annual North Bay Brain Tumour Walk at the Community Waterfront Park on Sunday.
"I wasn't sure if I was actually going to be able to be here," Brown said on Sunday as the walkers set off. "I'm just really happy that a lot of people came out and a lot of survivors, because some people aren't as lucky as I am and can't be here.
"It's really amazing. I can't believe it's done; my tumour is gone and I'm here and it's wonderful."
After an introduction ceremony to recognize local brain tumour survivors and a quick group zumba session to warm up, walkers set off for the 2.5 or 5-kilometer route along the Kate Pace Way.
When all was said and done, the inaugural event raised $15,859 for the Brain Tumour Foundation of Canada. Sharon Whiteside, national special events manager of the Foundation, said that was an astounding total for a first time event in a town the size of North Bay.
"It's amazing to see the turnout and the community support has been amazing," said Whiteside.
"It's just a way for the survivors to get together, meet each other, talk to each other and share their experiences and stories and also give support to people that have lost people."
Whiteside and many of the survivors on hand said having that support system is a crucial part of a successful recovery.
Some of the local survivors said that they do occasionally attend the monthly Sudbury Brain Tumour Support Group, but unfortunately that's the closest of its kind in the region.
Because of the distance, organizers said the community-based event on Sunday was a great opportunity for those diagnosed to meet each other and share their stories and console in one another.
"I was very open with my diagnosis and I had a lot of people coming and asking questions and it gave me something to be able to express with everyone how I was doing and how I was feeling," Brown explained.
"Right now I'm in the midst of that recovery, so being able to hear that things are normal is really reassuring. For me, it's great to see that people are doing this and all being together.
Both Brown and Sue Beauchamp, a five-year brain tumour survivor, also praised the Brain Tumour Foundation of Canada for the speed and ease of their invaluable support.
"When I left the doctors office, I left there with my head spinning because I didn't get a pamphlet or anything; I didn't know what to think," said Brown.
"So going online and going to the Foundation's website, clicking a couple of buttons and having all the information within a couple days, it was amazing; it was so fast and that was good for me because I was anxious."
Whiteside said the Foundation offers online virtual support groups, handbooks newsletters, information day conferences, research funding and a support line where two social support workers are available to help over the phone from Monday to Friday.
"The thing I found the hardest was when I got home from the surgery, I had no one to talk to who had experienced it or gone through it," said Beauchamp, who organized the event with fellow survivors Bekki Rahal and Brown.
"I found out about the Brain Tumour Foundation and they were great," Beauchamp continued. "I could call them and talk to them, if you ask them for advice they will lead you in the right direction."
The Foundation hosts a total of 23 organized Brain Tumour Walks across Canada, with North Bay being one of the most recent additions.
October is Brain Tumour Awareness Month in Canada. According to the national Brain Tumour Foundation, 27 Canadians are diagnosed with a brain tumour every day, with an estimated 55,000 people living with the disease.