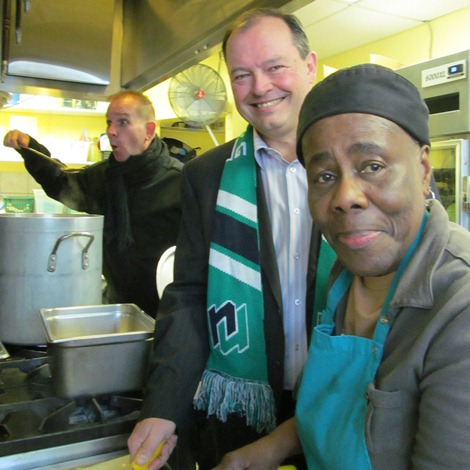 Mayor Al McDonald
News Release
*****
On January 8th, The Gathering Place, North Bay's Community Soup Kitchen announced their participation in the Coldest Night of the Year - a walk to raise funds for the hungry, hurting and homeless across Canada.
Mayor Al McDonald accepted the role of Honorary Chair of this exciting event, in support of the Gathering Place that serves over 100 hot meals a day here in our city.
North Bay is currently 7th in Canada, behind Toronto, Edmonton, Calgary, and Kitchener Waterloo. North Bay has 36 teams, 250 walkers-runners, 601 donors and has raised to date just over $29,000.
"The Gathering Place assists those in our community that need our help the most," said Mayor Al McDonald.
"Please consider joining us February 22nd for the Coldest Night of the Year Walk/Run that will surely warm your heart."
In North Bay, 250 walkers-runners between the ages of 6 and 75 have already registered.
Today, with only 8 days left until the Coldest Night of the Year, the Mayor is issuing a challenge to the people of North Bay; if you haven't signed up yet, it's not too late.
Go to Coldest Night Of The Year Fundraiser coldestnightoftheyear.org, join a team, get some sponsors, raise some funds, and join us on Saturday, February 22nd for the Coldest Night of the Year.
*****