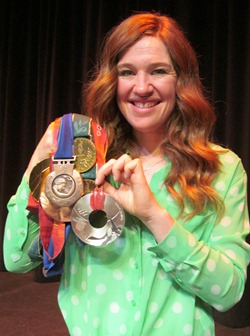 North Bay Regional Health Centre
News Release
*****
North Bay will once again be host to six-time Olympian Clara Hughes during the last leg of her coast-to-coast-to-coast ride called Clara's Big Ride, talking to our nation about mental health.
Clara's Big Ride begins in March 2014 and spans more than 100 days, 12,000 kilometers and every province and territory of Canada. Hughes will spend June 28th and 29th in North Bay as part of the last leg of the ride, that concludes on Canada Day in Ottawa.
"We are excited and honoured that Clara herself nominated and chose North Bay as one of her tour stops," says Tammy Morison, Chief Development Officer, North Bay Regional Health Centre (NBRHC) Foundation.
"Clara had the opportunity to visit North Bay last May as the Celebrity Speaker for our series on mental health," Morison says.
The Canadian Mental Health Association (CMHA) Nipissing Regional Branch and the NBRHC Foundation are her Community Champions for her Big Ride and we will host her for the final weekend.
"Fittingly we are calling this weekend North Bay Championship Weekend. We have this terrific opportunity to continue the important conversation around mental health, bring attention to this cause, and raise needed funds that will support our community," explains Jody Polec, President, CMHA Nipissing Regional Branch.
"We want to involve as many people in the community in making the weekend a huge success," Polec adds.
Plans for the weekend include a community welcome the afternoon of June 28th at Discover North Bay; a fundraising dinner that evening; and a youth breakfast for young champions on June 29th. Proceeds from the dinner will support the Child & Adolescent Mental Health Unit at NBRHC, as well as CMHA community programs.
"We are proud to be a part of Clara's Big Ride and host the Breakfast for Young Champions at our Lakeshore Drive McDonald's restaurant," says Brad Haines, Owner, McDonald's."
Tamara Dube-Clark, PhotoVOICE facilitator, explains photoVoice will connect and engage the students to see what mental illness looks like through the eyes of our youth.
"Students will have an opportunity to capture on camera what North Bay offers to promote their mental wellness. Participants' photographs will be on display during Champions Weekend, amplifying the voices of our future champions," Dube-Clark says.
"PhotoVoice participants will have the opportunity to join Clara for the Breakfast for Young Champions," She adds.
"I'm incredibly excited about bringing even more Canadians into the Bell Let's Talk conversation – the schools, community groups and hometown champions that are really moving mental health forward," Clara Hughes says.
"I'm looking forward to meeting people across Canada, hearing about their challenges and successes, sharing our stories and embracing new ideas and opportunities in mental health. I can't think of a better way to meet people, from the cities to the coasts to Canada's North, than getting on my bike and taking to the roads of this beautiful country," Hughes continued.
If you or your organization is interested in getting involved in North Bay Championship Weekend, contact Tammy Morison at 705-495-8129.
*****