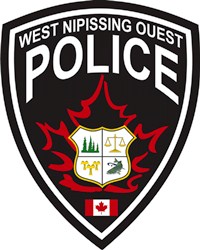 West Nipissing Police Service
News Release
*****
During the week of March 21st-27th, the West Nipissing Police Service logged 187 calls for service. Among those were 38 9-1-1 calls, 28 Police Assistance calls, 9 Motor Vehicle Collisions, 4 Thefts, 1 Domestic Dispute, 1 Impaired Operation of Vehicle, 1 Sexual Assault and 1 Drug Offence.
On March 20th, the West Nipissing Police Service received a complaint stating that a plastic jar with the sticker saying "Leukemia Collection" was found in a ditch.
The investigation revealed that the collection jar was from a business located on Front St.
Officers attended this business and found out that video surveillance was available.
Once this surveillance footage is viewed, hopefully it will assist the police in identifying the thief.
On March 23rd, a call was received at the West Nipissing Police Service advising of a possible impaired driver heading towards Sturgeon Falls on Hwy 17.
Officers stopped this vehicle and spoke with the driver.
The officer soon smelled an odor of alcohol which is when the male driver was directed to supply a breath sample in the Roadside Screening Device.
The breath samples resulted in a "FAIL".
The driver was then arrested and transported back to police headquarters where two more breath samples were collected.
The results of this analysis showed that the driver was approx. 2 ½ times over the legal limit.
The 25 year old North Bay resident was charged with Impaired and Over 80 and was released on a Promise To Appear.
He was also issued an automatic 90 day driver's license suspension.
On March 25th, three reports were received of vehicles that had been rummaged through sometime in the overnight hours.
Items stolen were reported as pocket change and a wallet.
All vehicles were not locked at the time of the thefts.
The thefts occurred in the Church/Main street area of Sturgeon Falls.

On March 25th, a complaint was received stating that people were arguing at a residence located in the 100 block of Main St.
Officers attended and were advised that a verbal argument started between two females.
One of the females was observed as having a swollen lip and a bruise near her left eye.
As a result, a 35 year old female was arrested and charged with Domestic Assault and was kept in custody awaiting a bail hearing.
On March 27th, 42 year old Charles Desgroseillers of Sturgeon Falls was arrested and charged with one count of Luring a Child and one count of Making Sexual Material Available to A Child.
This investigation was part of a multi-jurisdictional team which included the OPP, West Nipissing Police Service and the Gilpin County Sheriff dept., Colorado.
The investigation revealed that the accused had met an undercover police officer posing as a 14 year old female on an internet chat site.
During the communications over a three month period, the suspect committed an indecent act. The investigation also revealed that the subject was from Sturgeon Falls.
Police attended Mr. Desgroseillers's residence and executed a search warrant where two computers were seized along with other pertinent items.
The accused was remanded in custody and was brought to bail court in North Bay.
The investigation in ongoing awaiting results for the forensic analysis of the items seized.
Anyone with information about these or other crimes, please contact either the West Nipissing Police Service at 705-753-1234 or Crime Stoppers at 1-800-222-8477 (TIPS).
*****