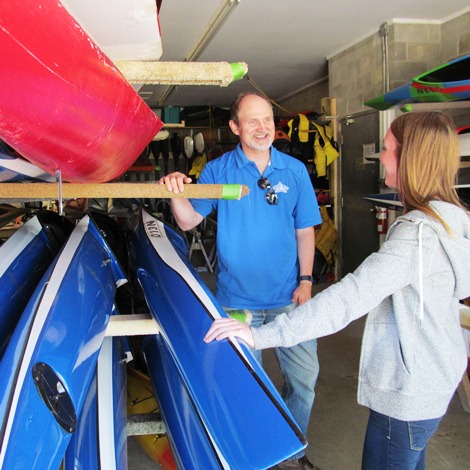 North Bay Canoe Club officials Chris Hotson and Sami Sharry discuss programs on offer during the club's open house Saturday. Story and Photo by Kate Adams.
For over 40 years the North Bay Canoe Club has been producing Olympians as well as offering a variety of experiences for people of all ages and skill levels and this year is no different.
Set for the season ahead, the a non-profit organization hosted an open house Saturday, to welcome new and returning paddlers as well as answer questions about the various canoe/kayak programs from the public.
Club spokesman Chris Hotson says programs start June 30th.
There are two different types of program on offer for kids at the start of the season, which opens June 30th.
For the beginner or kids looking to improve their skill level they can register for 'Paddle Camp'.
"People can take (this) on a weekly basis to introduce themselves to learn what the basic skills of canoeing kayaking are," explains Hotson.
"Also we have with called the sprint program, which has two parts to it there's a non-competitive, which is recreational, where they got come every day for the entire summer (and) they learn about the basics of canoeing and kayaking."
"But they aren't required to attend the sprint-training part or go to regattas."
Hotson says the canoe club is a safe environment for kids to get active and make new friends.
"There is nothing better than being, during the summer, on the water – it's just an experience you need to come out and do."
For adults looking to test the waters, the club is bringing back Dragon Boating on Monday and Wednesday evenings as well as adult recreational programs Tuesday and Thursday evenings.
The club will host another open house Saturday, June 14th from 10 am to 3 pm.
They are located at 60 Lakeside Drive (Olmsted Beach on Trout Lake),
Visit the website www.northbaycanoeclub.ca for full program information.