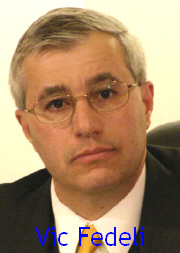 Nipissing MPP Vic Fedeli
*****
MPP Vic Fedeli is asking residents to consider nominating worthy individuals or groups in Nipissing for the 2014 Attorney General's Victim Services Award of Distinction.
The program recognizes dedication and creativity of professionals and volunteers who serve victims and the courageous efforts of individuals who have been personally impacted by crime and are now working to raise the profile of victims' issues in Ontario.
Nominations are particularly welcomed for youth who have contributed to victim services in their community.
Eligible individuals include professional practitioners, volunteers, victims or family members of victims who are highlighting victims' issues in the province.
Eligible groups include those that deliver a specific, time limited service to victims, deliver ongoing services to victims or are responsible for more than one victim services initiative.
All nominations should be submitted and postmarked by the deadline of February 18, 2014.
Questions can be directed to Fedeli's North Bay constituency office at (705) 474-8340. The nomination package, including a nomination form and questions and answers about the program is available online at www.ontario.ca/victimservices.
"Please consider putting forward the name of a person or group that's working hard to serve the needs of victims here in Nipissing," said Fedeli.
*****