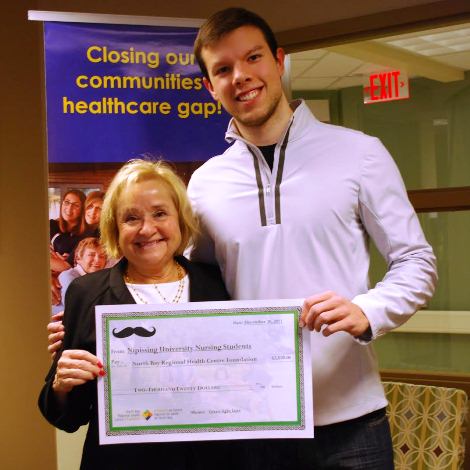 Photo Provided: Right- Lois Krause (President and CEO NBRHC Foundation) Left- Andrew Holland (Second Year BScN Student)Nipissing Bachelor of Science in Nursing students.
News Release
*****
During this past November and December, the second year Bachelor of Science in Nursing students at Nipissing University held their second annual prostate cancer fundraising event.
With the combined effort of the students, faculty and local businesses, the sophomore year for the fundraiser was a great success, raising $2020.00, nearly doubling the amount collected from last year.
"The goal was to surpass the donation total of last years fundraiser, but to nearly double that figure is something with which I couldn't be happier," said Andrew Holland, the fundraiser's organizer.
With input from several local business owners, Holland decided to direct the funds that were raised to the North Bay Regional Health Centre Foundation to aid in the acquisition of a Green Light Laser for prostate cancer treatment.
"Knowing that the funds we raised are staying local and benefiting our community is something about which the students as well as the businesses are pleased and proud."
The businesses on board this year were The Thomson Team at Assante Wealth Management, Modern Autobody, S & S Auto, The Hairport and The Sub Place.
"I want to thank all of the students and businesses for once again supporting this worthwhile cause and hope that we can continue to have outstanding success again next year."
*****