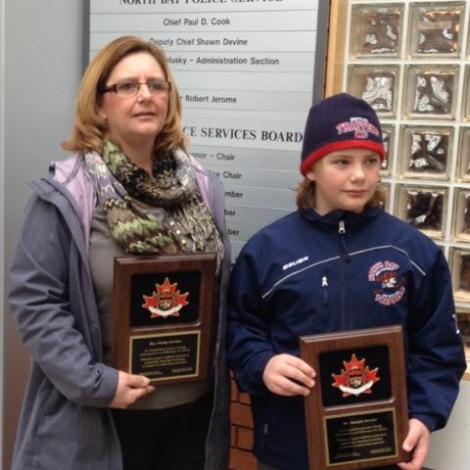 Cindy and Joseph Jordan pose with their commendations from the North Bay Police Force in recognition of their heroics on area snowmobile trails the night of February 13th of this year.
With conditions for a snowmobile ride perfect the night of February 13th of this year, The Jordan family hopped on their machine and hit the trails for a moonlight ride, little did they know the impulse to ride would turn them into heroes.
Joseph and Cinidy (son and mom) cruised the trail system of from Ferris area up to the Trout Lake/Highway 17 East area shortly thereafter along the trails Cindy spotted a flash of what she believed to be taillight.
Concerned that the trail just didn't look right the Jordans stopped for closer inspection.
"What they found was surprising and quite concerning. A snow machine had left the trail and collided with a tree. A lone male rider was stranded in the deep snow. The rider had lost his boots and was suffering from injuries sustained from the impact and was unable to remove himself from the site," Deputy Police Chief Shawn Devine tells North Bay Police Board members during their monthly meeting Tuesday.
"The male advised Cindy and Joseph that he had been stranded for approximately two hours and even with the aid of his cell phone, had been unable to direct help to his location."
Joseph and Cindy jumped into action digging the male out of the snow.
"He appeared to be suffering from shock and complained of injuries to his leg and ribs," notes Devine.
They then transported the injured snowmobiler to the Mr. Gas on Highway 17 where his family picked him up and took him to the hospital.
"Contact with the male following treatment indicated significant trauma that would result in four to six months of recovery. If not for the quick eye for something out of place and the quick decisive actions of both Joseph and Cindy to provide assistance and support, the results might have been significantly different," states Devine.
Cindy says they were lucky that they were in a position to help out that night, but that it also reaffirms how they ride the trails.
"Drive safely, drive to the conditions and always safety first."