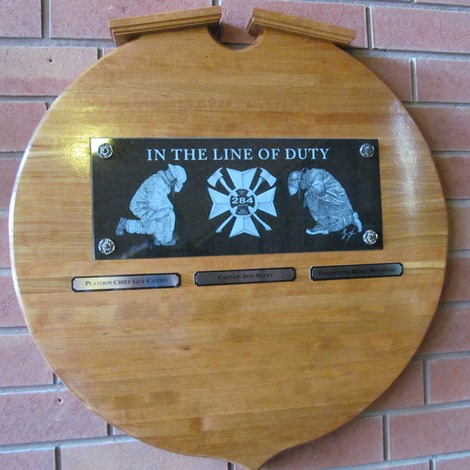 Platoon Chief Guy Cantin, Captain Don Haley, and Firefighter Kevin Mechefski are the three names that grace the new 'In the Line of Duty' plaque hanging at Station 1 on Princess Street. The three firefighters passed away due to suspected work related illnesses they contracted while in the line of duty. Story and Photo by Kate Adams.
North Bay Firefighters have a new plaque hanging in the hall at Station 1 on Princess St.
The plaque 'In the Line of Duty' is in honour of the men and women of the service who have died, not while fighting a blaze, but due to suspected work related illness they contracted while in the line of duty.
"Back in 2007 the provincial government said presumptive legislation would recognize eight cancers that are known to firefighters as a result of their job," explains North Bay Professional Firefighters Association spokesman Chris Cuthbertson.
"More recently on April 30th again the provincial government added another six, so now 14 cancers are recognized as being a part of our job."
"The three firefighters' names that are on the plaque behind me are a good example of what happens. These are the firefighters that unfortunately as a result of our job, protecting our community and the people in it lost their lives as a result of it."
"They don't get the glorified funeral or the truck ride down the road, they unfortunately passed away in hospitals or hospices and not have length in life that they did."
Cuthbertson says two of the people named on the plaque passed away shortly after they retired, but again their deaths were due to cancers associated with the work they did.
"We see a lot more in our fire loads, a lot more plastics a lot more toxins and vapours," explains Cuthbertson.
"We could have the best equipment for our breathing apparatus and stuff for ourselves, but it is still getting into our systems as firefighters. And it's proven in studies and experiments through absorption in our skin."
He says based on the studies and information available, professional firefighters will have to be vigilant and fight to protect themselves.
"So the plaque behind us is a very good example of us being able to show the families of these former firefighters that they didn't do their job in vain. This is something that we were able to do to honour them, our family, that's the most important part to us."
Cuthbertson says the plaque, created by fellow firefighters Gord Mukasey (woodwork) and Greg Macie (artwork), was designed with enough room for more names to be placed on it.
"We hate seeing names on it absolutely, but that's the reality of our job now."
The cancers already on the list include brain, bladder and kidney cancer, non-Hodgkin's lymphoma and a variety of leukemia diagnosis.
Added to the list for 2014 are breast cancer, multiple myeloma and testicular cancer, with prostate cancer, lung cancer and skin cancer phased in by 2017.
The six new cancers are retroactive to Jan. 1, 1960.