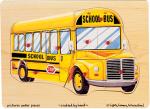 Near North District School Board
News Release
*****
The Near North District School Board is hopeful that today's mediation discussions between Nipissing Parry Sound Student Transportation Services (NPSSTS) and CUPE Local 1165-6 are successful in reaching an agreement.
At this point in time, parents and caregivers can expect that school bus services contracted to the NPSSTS will run as usual on Monday.
School bus operators are not impacted and will continue to provide safe and effective school transportation for our students.
Staff look forward to welcoming students back to school on Monday, January 6, 2014.
*****