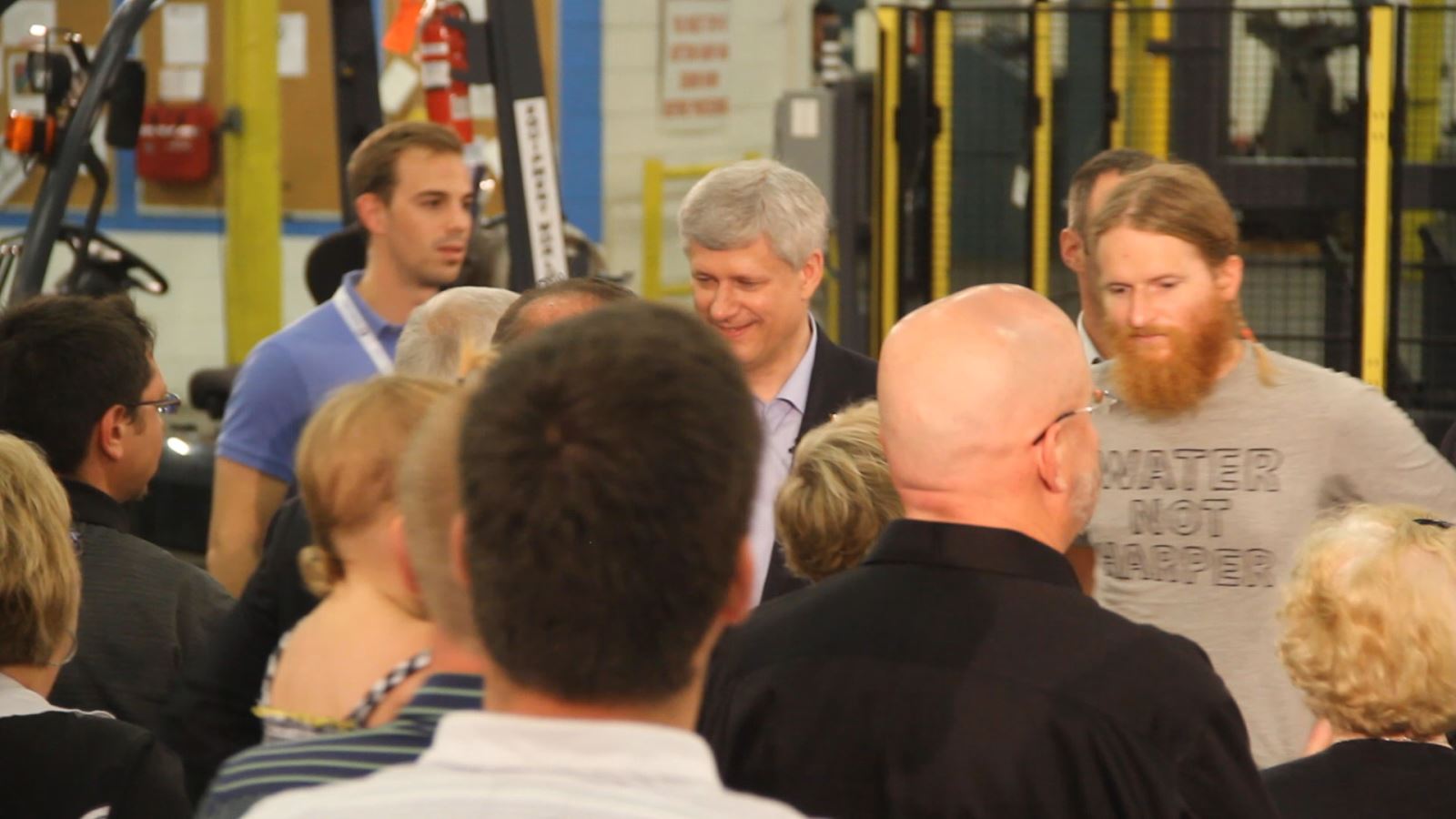 Yan Roberts never imagined walking up to the Prime Minister wearing a "Water not Harper" shirt would create such a media buzz across the country.
Roberts, who attended the Conservative election event yesterday as a guest after filling out the online paperwork for the invitation only event, walked up to the Prime Minister after removing his dress shirt and stood shoulder to shoulder with Harper sporting his three word message across his chest.
He was swiftly escorted to the back of the media conference and was eventually escorted out of Premier Mining Products where he met with the media outside.
View the video and the story here: http://www.baytoday.ca/content/news/details.asp?c=83324
"As an invited guest with a ticket, using my full honesty, and all it was was words on my shirt," said Roberts in an interview with BayToday Thursday afternoon.
"I didn't disrupt their speech or their questions or anything, I waited until afterwards. But that in itself is considered such an act of violation," added Roberts who fielded numerous media interview requests from media outlets like the Globe & Mail and CBC.
Roberts' purpose for attending was to express his concerns for the Energy East Pipeline Project which would involve oil going through an old natural gas line currently underneath Trout Lake.
Despite getting close to Harper, Roberts was shocked to see the security surrounding the event including police dogs sniffing through the media's equipment bags prior to the event.
"The message I intended to bring was about water and environmental regulation to protect our waters such as our drinking source here in North Bay, but much bigger than that, it speaks to the erection of fear versus security that the country is heading in," said Roberts, who runs an animal sanctuary with his wife in Nipissing Township.
Roberts hopes he can also meet with the other leaders should they make a visit to the Gateway City as he feels water protection relating to the Energy East Pipeline Project will become a key election issue.
"I hope that conversation will happen in a more productive way than just some dude wearing a shirt like me," he said.