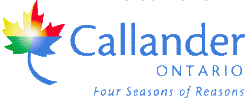 Municipality of Callander
News Release
*****
The 2014 Budget is demonstrative of Council's and Staff's commitment to: addressing health and safety requirements; supporting growth and development; enhancing municipal services and preparing for the future.
At the April 22, 2014 Regular Council Meeting, Council for the Municipality of Callander adopted its 2014 General Ratepayer Budget. The Budget process consisted of Public calls for input and meetings on March 27, 2014 and April 1, 2014.
Council is pleased to have a budget that allows for continued investment in municipal assests while also taking steps to ensure that Callander's Reserve funds are increased in order to support these Plans, and to deal with unforeseen events and emergency situations.
Callander's 2014 Budget Major and Critical Infrastructure Projects include the following:
Completion of the Reinstatement and Enhancement of the Municipal Wharf and Marina;
Replacement of Hazel Glen Bridge;
Building Condition Assessment Repairs;
Upgrades and Improvements to the Callander Community Centre including new Accessible Washrooms, Energy Efficient Lighting, Flooring and a new Stage (partly funded by the Ontario Trillium Foundation); and
Contributions to the dedicated Infrastructure and Downtown Waterfront Revitalization Strategy reserves.

The 2014 Residential Tax Rate increase over 2013 is 2.00% which amounts to an additional $114.00 per year for the average Callander home owner.
The new Rate will assist Callander in meeting its goals with respect to its development of long term Asset Management and Capital Plans while minimizing the impact on residents.
Council wishes to thank the citizens of Callander for their valuable input throughout the 2014 Budget process.
*****