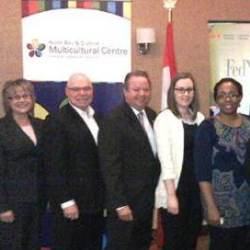 Nipissing-Timiskaming MP Jay Aspin
News Release
*****
Jay Aspin, MP for Nipissing-Timiskaming announced today on behalf of Greg Rickford, Minister of State for Science and Technology, and FedNor, and Minister responsible for the Ring of Fire $31,500 support for youth employment to help strengthen the regional economy."
"Youth out-migration is a very serious issue facing our region," said MP Aspin. "Our government is helping to support employment, right here at home, by encouraging youth to build their futures in our communities and to help strengthen the local economy."
FedNor funding of $31,500 will enable the North Bay & District Multicultural Centre to hire a youth intern for a one-year period.
While in this function, the successful candidate will support the development of a business incubator in downtown North Bay and the expansion of the organization's existing HR North project - a program that helps businesses attract and retain a skilled workforce.
"Our Government remains focused on providing the right environment for economic growth, through effective cooperation across all sectors, to keep Canadians working and to ensure the long-term prosperity of all our communities," said Minister Rickford.
"The goal is to support business competitiveness," said MP Aspin. "Today's announcement will help lead to greater diversification of the local economy; create jobs; and position businesses and communities throughout the area for sustainable economic prosperity."
The funds were provided through FedNor's Northern Ontario Development Program (NODP), which supports projects that promote sustainable community economic development, enhance business development and growth, and facilitate innovation throughout the region.
*****