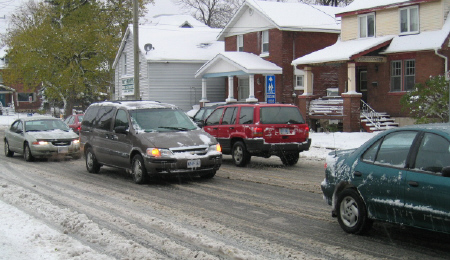 Minister of Transportation Glen Murray
News Release
*****
As winter weather arrives across the province, Ontario is reminding drivers to be prepared for challenging driving conditions.
Follow these simple and important road safety tips to help keep roads safe this winter:
Be in the know. Check your local weather forecast and road conditions before you go. If the weather is bad, consider postponing or cancelling your trip until it improves
Be prepared. Plan your route ahead of time. Make sure you have a winter survival kit in your vehicle. Get your vehicle winter ready and clear all ice and snow from your vehicle and windshield
Be safe. Slow down and stay in control. Use snow tires and adjust your driving to current road and weather conditions. Keep a safe distance from other vehicles.
Each year, about 70,000 collisions occur in the winter months — roughly 30 per cent more than in the summer.
QUOTES
"Winter weather can make driving challenging, and keeping our highways safe is our priority. Our winter maintenance standards are among the best in North America. While we are doing our part to keep roads safe, I urge all drivers to do their part – slow down, be prepared and be aware of the hazards while driving during the winter."
—Glen Murray, Minister of Transportation
"Road safety is a shared responsibility. Collisions during winter weather can be prevented if drivers adjust their driving to the weather and road conditions. Conditions can change rapidly and without warning, so please stay alert and drive accordingly."
— Chief Superintendent Don Bell, Commander, OPP Highway Safety Division
"Ontario winters can be severe, especially in Northern Ontario. Be aware of winter road conditions and be prepared for the unexpected. Being alert, slowing down and staying in control will help you get home safely to your loved ones."
— Rick Bartolucci, MPP for Sudbury

QUICK FACTS
Ontario's roads are among the safest in North America.
More than 1,000 snowplows and salt/sand spreaders are used to fight winter storms on provincial highways.
The province is deploying 50 additional combination snowplow/spreader units and 5 tow plows this winter — 42 of them in Northern Ontario.
Road salt helps clear the highway of ice and snow until temperatures drop below -12 degrees Celsius. In colder temperatures, sand is used to provide traction.
Ontario has 16,900 km of highway and 2,756 bridges that must be maintained during the winter
*****