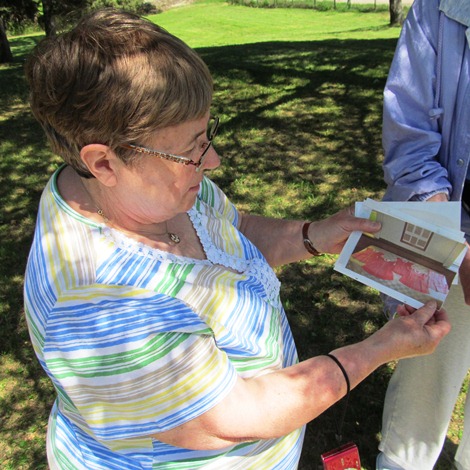 Lani Pettit of Sioux City, Iowa shows a picture of a set of Dionne Quints' dresses she recently picked up at auction for $300. Pettit is in the area this week to mark the 80th birthday of the Quints and took in the Callander Bay Heritage Museum tour of Quintland Wednesday. Photo by Kate Adams.
Eighty years ago today, May 28, 1934; a miracle took place in the small village of Corbeil, Ontario - five identical baby girls had been born and survived more than a couple of days.
News of the miracle spread across the world and soon Annette, Cécile, Yvonne, Marie and Émilie, born to Oliva and Elzire Dionne, were the most famous little girls in the world.
It was the height of the Great Depression and people from across the world flocked to the area including Hollywood stars Clark Gable, James Stewart, Bette Davis, James Cagney and Mae West to catch a glimpse of the miracle girls.
Even Amelia Earhart made the journey to see the Quints six weeks before the1937 flight where she flew of never to be heard from again.
Not only did the Five of a Kind put Callander and North Bay on the world's map, they also opened up a tourist industry that employed thousands of people, which in turn, sustained the area through the hard times.
Their lives were nothing short of tragic and played out in the public eye starting with Ontario Premier Mitchell Hepburn deeming the parents unfit and taking control of the girls' interests and appointing Dr. Allan Roy Dafoe took care for the girls.
They were moved across the road to the Dafoe Hospital and Nursery compound and a public observation area was built around the playground.
The area, set up much like a zoo, pushed through 3 million people to view the miracle five up close.
In 1934 the Quints brought in at least a million dollars in tourist revenue and at one point the figure was $51 million in tourist revenue for Ontario during the era quickly making the Quints Ontario's biggest tourist attraction surpassing Niagara Falls.
Although eight decades have passed the Dionne Quintuplets still garner the world's attention.
Today two dozen people including fans from as far off as Ypsilanti, Michigan and Sioux City, Iowa made the trek to Corbeil to mark the anniversary birth and tour the grounds of what was once known as Quintville.
The celebrations of the miralce births continue on Saturday, May 31st, at At 1:30pm at the Dionne Quints Museum with a birthday cake, games, and speeches.
Also the Callander Bay Heritage Museum will be offering a guided tour at 2pm Saturday at the former site of Quintland located at Nipissing Manor, 1202 Hwy. 94 Corbeil.
The tour will feature historic photographs of the original buildings and locations, and how the site appears today.