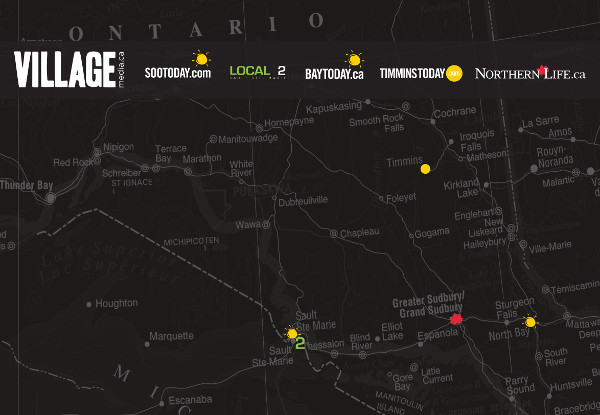 Laurentian Publishing Ltd. in Sudbury and Village Media Inc. of Sault Ste. Marie have teamed up to expand a powerful network of online news sites across Northern Ontario featuring local, regional, and national news.
The new joint marketing venture brings together Villiage Media's online news brands — Sootoday.com, Baytoday.ca, Local2.ca, and Timminstoday.com — with NorthernLife.ca, Sudbury's multi-award-winning website, owned by Northern Life, the flagship newspaper of Laurentian Publishing.
(Northern Life is the sister publication of Northern Ontario Business.)
Michael Atkins, president of Laurentian Publishing, said combining the sales, technical, and marketing expertise of Villiage Media with the editorial influence of Northern Life was a good fit that will benefit consumers of news across the region and will allow advertisers a powerful vehicle to promote their products and services to a huge media following.
With the addition of NorthernLife.ca to Village Media's network, the sites now deliver upwards of 17.5 million page impressions per month, and more than 115,000 visits per day — to a primarily Northern audience that is looking for up-to-the-minute news and community information.
"Normally we like to enter new markets alone, but in this case the fit with Northernlife.ca was excellent," Jeff Elgie, president of Village Media, said in a news release. "We have known them for many years and have tremendous respect for them as a top quality publisher and respected Northern business."
Northernlife.ca has won numerous provincial and national awards for its website culminating in best website in Canada (Canadian Community Newspaper Association) and best website in Ontario (Ontario Community Newspaper Association) in 2013.
Besides Northern Life in Sudbury, Laurentian Publishing owns the Sudbury Living Magazine Group, Northern Ontario Medical Journal, Sudbury Mining Solutions Journal, and associated events.
Village Media's network of hyper-local community news sites deliver over 17.5 million page impressions to a highly engaged, loyal audience throughout Northern Ontario. They operate some of the largest digital news sites in each of their communities, and compete aggressively as a Northern-owned and -operated digital media organization.
The new agreement was announced at the 28th annual Northern Ontario Business Awards gala in Sault Ste. Marie on Sept 25.