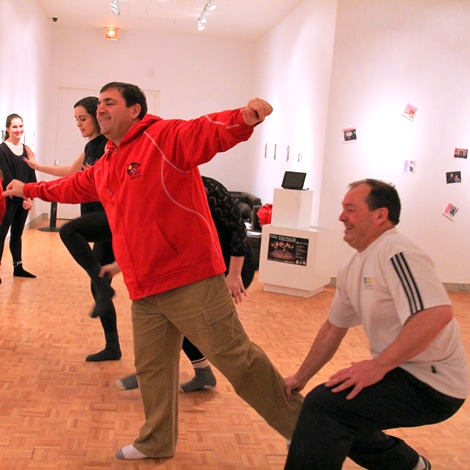 Chippewa Principal Lucio Pavone and Mayor Al McDonald are schooled by the Raiders dance squad during the media launch of the Pulse Ontario Dance Conference at the WKP Kennedy Gallery Thursday.
For the first time in its 8 year history the Pulse Ontario Dance Conference is stepping outside of their home at York University and hitting the road picking North Bay as the 2014 host.
"The Pulse Ontario Dance conference is a three day gathering of professional dance artists, dance educators and dance students from the province of Ontario," explains Chippewa Dance Teacher Andrea Lefebvre who has spearheaded the local planning committee.
"This year we have the privilege of hosting the conference in North Bay, May 8th to the 11th."
The key to the conference's success is giving dance students of all levels an affordable opportunity immerse themselves completely in all dance forms.
"Pulse is committed to facilitating the development of a healthy vibrant dance education community where we create opportunities to animate the voices of all stakeholders in dance education," Chippewa teacher Crystal Jones notes.
Not only is the conference an opportunity for Ontario students to live, breath and sleep dance, but it is unique in that students and teachers will learn about the vast diversity of dance in Ontario side-by-side, as well as developing relationships with other schools, students and dance professionals.
"Pulse is a catalyst bringing together stakeholders and dance education providing a space to promote dialogue through a shared experience in collaboration," Principal Lucio Pavone states.
"The conference fosters enduring relationships between educators, students, artists and scholars beyond the conference experience."
"It's seeks to address ongoing concerns about the dance programs in Ontario and models delivery templates to other national or international jurisdictions."
"As an educational leader, I believe in the power of the arts and its ability to impact engage students," he adds.
The jewel of the Bay the Capitol Centre will be the event hub housing classes, lectures and performances.
For those unable to take part in the conference you are encouraged to take in "Feel The Pulse" Thursday May 8th and Friday May 9th on the CapCen stage.
"Thank you to North Bay community for embracing this dance opportunity," said Mayor Al McDonald.
"We appreciate your support of our students, artists and audience North Bay looks forward to hosting this event."
Tickets are available at the Capitol Centre box office.
For students and teachers wishing to participate visit the Pulse website.