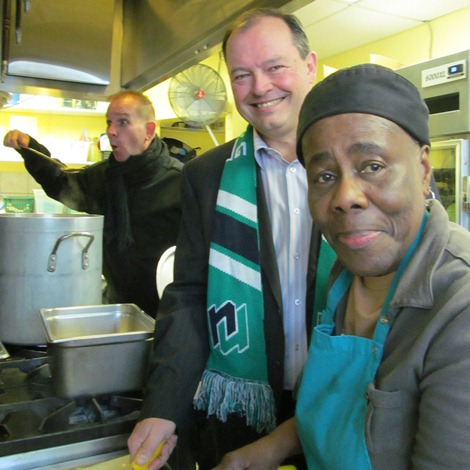 Grace, a gathering place volunteer, put on a brave face as she shows Scott Clark and Mayor Al McDonald around the soup kitchen during the launch of The Coldest Night Walk on Wednesday.
*** Mayor Al just informed BayToday this morning (Thursday) that fresh out of the gate his team is currently in 4th place in the country with total amount raised and the North Bay is 7th in the country as a city with the total amount raised.
Please keep the momentum going and sign up today! ***
With the help from community celebrities Scott Clark and Mayor Al McDonald the gathering place, North Bay's Community Soup Kitchen, officially launched their latest fundraising effort for North Bay's hungry, hurting, and homeless on Wednesday.
'The Coldest Night of the Year Walk,' is an event that encourages residents to bundle up and set out on a run in order to understand what folks living below the poverty line go through every day during a Canadian cold snap, and at the same time raise cold, hard cash so the gathering place can continue the work they do in providing much-needed support to our neighbours in need.
"While we live in one of the richest countries in the world, there are still many people in our communities who live in poverty; they have inadequate housing, clothing, and often do not have enough to eat. Every month the gathering place serves approximately 2500 meals – many of the people we serve depend on us for their only hot meal of the day," state gathering place Executive Director Jill Clark.
The event, billed as a family-friendly winter fundraising event, will see North Bay participants join other walkers from 65 cities coast to coast the evening of Saturday, February 22nd, 2014.
Walk organizers have participants kicking off and ending their journey at Ecole Secondaire Catholique Algonquin, where walkers will register, turn in the results of their fundraising efforts, and return at the end of the evening for a warm celebration meal.
Participants have a choice to walk a 2km, 5km or 10km route, and will warm up with toasty drinks at rest stops along the way while donning an iconic gray toque with multi-coloured pom-poms they received for registering.
This is The Gathering Place's first year taking part in the Coldest Night of the Year, with a fundraising goal of $25,000.
Both Scott Clark and Mayor Al are busy recruiting members for their individual teams as they have wagered a lunch for the team with the most participants.
Ideally the soup kitchen organizers would like to have 200 walkers and 20 teams to brave the cold winter's night.
Sign up here: http://coldestnightoftheyear.org/location/northbay