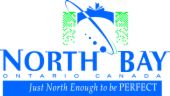 North Bay City Council was a busy and colourful place to be on Monday evening during its regular meeting.
A presentation from local environmentalist Peggy Walsh Craig, on behalf of Nipissing Environmental Watch, was made regarding their concerns with City Council and the lack of an environmental impact plan in the area, with global warming and, particularly, accident prevention and cleanup surrounding our municipal drinking water being some of the issues that were being focused upon that evening.
Council also again saw local business owner Case L'Ami, pleading for information and honesty with regards to road closures that have continued to hamper his business and drag on well past his already guaranteed completion times.
Council also saw an interesting presentation made by local guitar legend Al Carlson, in the form of a musical song, who wishes to represent North Bay in the CBC's Music Quest song competition for next year's NHL official anthem.
Local resident JB Szabicot appeared before council to clarify whether or not city contracts were available for public scrutiny and asked for information regarding the process by which a citizen can to look at the ongoing contracts on behalf of the citizen tax base.
North Bay water and sewer rates were also passed, at an increase of 1.6 percent, with water meters still being installed years after the program was passed by council.
Council will end the year with a $700,000 dollar operating budget deficit, being blamed on the difficult winter conditions from January through March the previous winter that will be paid out through a combination of tax stabilization funds and winter contingency funds.
Finally, council saw a shuffling of their seats, with the resignation of former Deputy Mayor Sean Lawlor taking effect.
The new Deputy Mayor's seat was bestowed upon Councillor Tanya Vrebosch, with much acclaim made by council as to her accomplishments and a noting that she may well be the youngest and first female Deputy Mayor to take the seat in the corporation of North Bay.