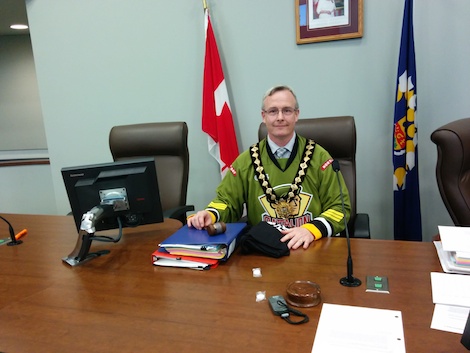 Submitted photo.
Yup, it's Oshawa's Mayor John Henry paying a debt to North Bay's Mayor Al McDonald.
The wager was based on the recent conference finals which the Troops swept. The losing mayor had to wear the opponants jersey during ther next council meeting.
"The series between our two teams and our cities was watched across the province and both cities received unprecedented media coverage, "said Mayor Al.
I would like to thank Mayor Henry and the City of Oshawa for being great sports."
Henry replied, "I've honoured my friendly wager with Mayor Al McDonald and the City of North Bay by wearing your hometown Battalion jersey at my council meeting last night."
"On behalf of the City of Oshawa, I wish the City of North Bay and the Battalion every success for their march to the OHL championships. Go Troops."
Next goal...the Mayor of Guelph!
'"The bet is a donation to your favorite charity," says Mcdonald. "If the Battalion win she (Karen Farbridge) must donate to my fav charity, The Gathering Place, and if Guelph wins I donate to hers which is Lakeside HH."