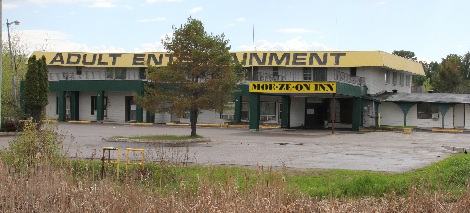 The MOE-ZE-ON INN sits empty and a sign on the door reads "Closed for business". Photo by Jeff Turl
The MOE-ZE-ON INN, a well-known strip club on Pinewood Park Drive is out of business and the building is up for sale.
"I've just had enough," owner Jamie Simkins told BayToday. "I'm going back to contracting."
Simkins has owned the property for 21 years and says he has no regrets over closing things down but appreciates the support customers have shown over the years.
The main structure was built in the late '50's, says Simkins, and the erection of the motel portion took place in 1974.
The club has gone under a number of names over the years.
"The original name was The Ranch," explains Simkins. " Then it was the Ponderosa, Port of Spain and the Sweetwater."
Simkins was on his way for a meeting with his real estate agent when met by BayToday, but wouldn't give a price he'd be asking for the property.
" I'd rather not."
The closing of the MOE-ZE-ON INN leaves Fanny's as the only remaining club of its type in the city.