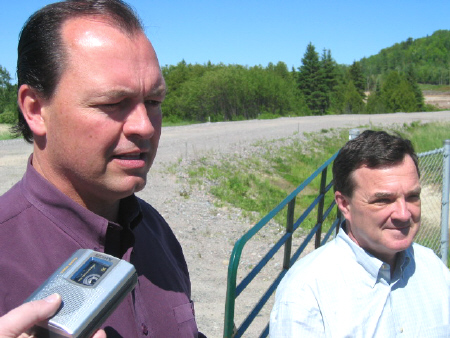 Nipissing MPP Vic Fedeli issued the following statement this afternoon on the passing of former Finance Minister Jim Flaherty:
"I am deeply saddened at the passing of former Finance Minister Jim Flaherty.
He leaves a tremendous legacy of public service to our country and our province.
On behalf of residents of Nipissing, my prayers go out to my caucus colleague and Jim's wife Christine Elliott, their three children, family and friends."
Meanwhile, Mayor Al McDonald posted the following statement on his facebook page:
"Wendy and I will miss you Jim!
I spent 2 years with you as your PA when you were the Minister of Enterprise, Opportunity & Innovation.
You taught me so much.
Your knowledge of numbers, business, industry that you shared with me, I still use today.
You were a good friend to both of us.
You made countless trips to North Bay to support the initiatives I was working on, no matter how busy you were.
Thank you for your service to our city, Province and Country.
It is a great loss for our country Godspeed Jim"
Former Nipissing-Timiskaming MP Anthony Rota issued this statement:
"I have a lot of respect for people who follow their convictions and do what they believe in.
Jim believed in what he did and gave his life to public service.
My thoughts and prayers go out to Jim's family."
Nipissing-Timiskaming Conservative MP Jay Aspin issued the following statement:
"I am very saddened with the news of my colleague's passing. Both my wife Joanne and I are shocked by this untimely event and wish to extend our sincere condolences to Jim's wife Christine, and his three sons Quinn, Galen and John.
Despite his small stature, Jim Flaherty was a giant of a man among public servants.
He unselfishly devoted his time and his extensive talent to both the Ontario legislature and the House of Commons.
Principally as a direct result of his amazing capability, Canada and indeed the free world, were guided through one of the greatest economic downturns experienced since the Great Depression.
He was a humble man who always took time to assist the less fortunate in life and will be particularly remembered for the policies he advanced to assist disadvantaged Canadians.
He was very sincere man with a huge heart and an enormous sense of humour which captured the respect of his fiercest opponents.
Jim "raised the bar" for devotion to public service in Canada.
There is no doubt he will be remembered as one of Canada's greatest Finance Minister's.
I consider myself gifted to have worked hand-in-hand with such a great Canadian.
Rest in Peace my good friend Jim Flaherty."