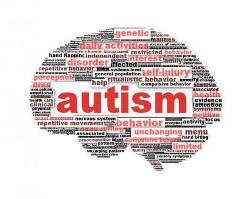 The re-launch of an autism registry in North Bay will educate police in how to interact better with people with autism and help de-escalate situations that could spiral out of control.
"By mid-April, everyone employed by the North Bay Police Service will have received training," said Sergeant Dan Webber.
Webber told an audience of a dozen people attending an information session Wednesday at Hands the Family Help Network on Lakeshore Drive, that a similar registry in Ottawa had already proved its worth, de-escalating a situation that could have turned extremely violent.
In 2010, a mother called police, frantic because her autistic son was chasing and threatening her with a knife.
She told the dispatcher that her son was on the registry which contained critical information on the boy.
One of those facts...the teen was keenly interested in hockey.
"When the officers got there," said Webber, "the teen was waving the knife at his mom and she was frantic."
"One of the officers noticed a pair of hockey tickets on the counter, and recalling the registry information, asked him if he liked hockey."
The teen then said yes and started talking about his favourite sport.
The situation immediately de-escalated and ended peacefully.
It's estimated that one out of every 100 people are autistic, and in North Bay 38 people have voluntarily been added to the registry.
The Autism Spectrum Disorder registry contains information detailing the person's full description, with photo, favorite attractions, special needs, triggers and if they are verbal or non-verbal.
North Bay Police Constable Eric Krmpotic is the proud father of a six year old autistic son. He says the information is key in serving the autistic population.
He gives the example of children that may have difficulty dealing with loud noises such as police sirens or bright lights like the strobe lights atop a police car.
"Maybe we would attend and turn off our sirens and lights if we know that may cause more of a crisis witht the child," he said.
The local registry was spearheaded five years ago by Kelli Van Buskirk. She is the mother of an autistic 15 year old son, and says having him on the registry gives her a great peace of mind.
"Information about the child is readily available to police about whether they are dealing with a child with severe autism. Should the child ever become involved in a police situation the police will have information that the child may not be able to give to them," she said"
"It will change the interaction between the child and the police to something with a much more positive outcome."
Wednesday is World Autism Day. You can get more information by searching Google for North Bay Autism Ontario.
Information regarding the local autism registry can be found on the North Bay Police Service website. The information is completely confidential.
Constable Krmpotic urges every parent with an autistic child to sign up. "Join," he suggests. "It's a good thing and nothing bad can come out of it."