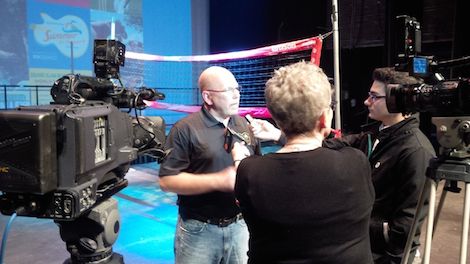 Summer in the Park Chair John Strang speaks to the media in front of the makeshift volleyball court which was set up on stage at the Capitol Centre. PHOTO BY CHRIS DAWSON.
The Summer in the Park festival had its launch on Tuesday night at the Capitol Centre.
The high profile summer event will include some changes including free transit for those sporting a wristband to and from the waterfront.
"The festival grounds have shifted to the area around our fabulous Museum on Oak Street," noted mayor Al McDonald in a press release.
"We are providing free transit for all festival attendees who have a wristband and Memorial Drive will be open with festival parking at Lee Park and a shuttle service (sponsored by Canadore College) to festival grounds," added McDonald.
The event will include 3 days worth of concerts including the following bands:
Friday, August 1st:
Classified, Finger Eleven and headline act Dropkick Murphy's
Saturday, August 2nd:
54-40, Kim Mitchell and headline act Foghat
Sunday, August 3rd:
David Wilcox
The splashy event included musical introductions for every band as event chair John Strang rolled out the lineup.
"We wanted to create some hype right from the start and that is what this was all about," said Strang.
"We wanted to appeal to as many people as we possibly could, we promised a classic rock night and we've been able to pull 2 out of our hat so 3 nights of entertainment are fantastic, there's something for everybody and Friday night is going to be outstanding - every night is going to be outstanding, we are very pleased with what we have lined up," he added, noting opening acts for Wilcox on Sunday will be released soon.
Summer in the Park will also include an Ontario Volleyball Association Adult Elite Beach Volleyball event which will include an American Pro team involved in Men's tournament along with what organizers say will be some of the best Ontario beach volleyball athletes in the province.
Beach Volleyball used to be part of the former Heritage Festival lineup in what organizers are calling a "ReBirth" of the summer event.
To showcase the return of volleyball, organizers had beach balls flying from the rafters onto the crowd while volleyball players on stage took part in an exhibition volleyball game for the excited onlookers.
"Summer in the Park is an outstanding venue for the OVA," said Vision Volleyball President and OVA Board Director Amedeo Bernardi in the press release.
"Spectators will see athletes who are at the top of their game," he added.
The wristband sales will be capped at 10,000 and will be available to purchase for $40 until June 30th and $50 after that day.
Organizers say they can be purchased at City Hall, at the Capitol Centre or online at www.summerinthepark.ca