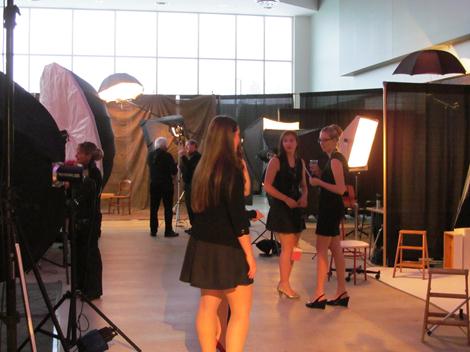 With music pumping, cameras flashing and beauty experts applying their touches to faces and hair a person would think they stepped backstage at fashion week in Toronto, but it's not a fashion show it is something much more important it is the Help Portrait event.
North Bay Help Portrait event is part of a global movement that sees photographers worldwide volunteer their time, expertise and equipment to give back to those in need.
The North Bay event, which is orchestrated by well-known photographer Ed Eng, sees hair stylists and make-up artists join volunteer photographers for a one day photo shoot that will provide local families with a free, professional-quality portrait.
The day saw families arrive as VIPs announcing their arrival at école secondaire Algonquin followed by having their hair coiffed; makeup applied then posing in one of the five professionally manned studios.
At the end of the star treatment families walk away with a beautifully framed portrait.