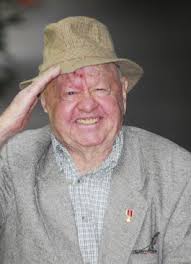 Today Hollywood is mourning the loss of one of their brightest stars legendary actor Mickey Rooney.
Born Joseph Yule, Jr. in Brooklyn, New York in 1920, Rooney died Sunday in California.
The son of vaudeville performers, Rooney started his career at the age of one he went on to star in dozens of films, television and stage productions that spanned his lifetime including the wildly popular "Strike up the Band" and "Babes on Broadway" which saw him team up with actress Judy Garland.
He was 93.