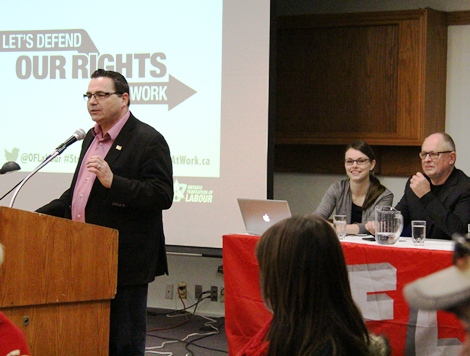 The Ontario Federation of Labour president Sid Ryan gathered with area union leaders in North Bay this past weekend to speak directly to their Conservative members and get them to rethink their support of the party and stop 'Hudak Attack'.
Ryan launched the province-wide campaign against Progressive Conservative Leader Tim Hudak last month in response to Hudak's white paper or what he calls anti-worker scheme.
The OFL plans on bringing the campaign to every corner of the province to train workers to educate their colleagues, families and neighbours about Hudak's hidden agenda.
Before going into the closed door session Ryan took time to talk to the media about where they are and who they interpret Hudak's white paper.
"Mr. Hudak's entire platform is centred on dismantling the labour movement to clear the way for a low-wage economy," said OFL President Sid Ryan.
"He isn't fooling anyone. No matter how he tries to massage his message, Tim Hudak is still committed to the same extremist policies that would divide our workplaces, weaken workers' voices and drive down wages for everyone."
North Bay and District Labour Council President Henri Giroux echoed Ryan.
"Hudak wants to force workers in the North Bay region to compete with workers in low-wage jurisdictions in a race to the bottom, so he wants to eliminate the workplace rights that stand in the way of his plan."
"We are going to bring this message to every union member and especially members who have voted for the Conservatives in the past to say 'not this time, Mr. Hudak.' We will be telling our co-workers, friends and neighbours exactly what a Hudak government has in store."
For more information on the campaign visit www.RightsatWork.ca