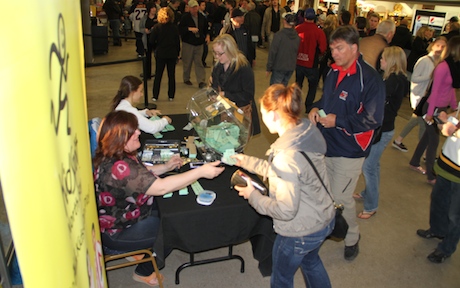 Kidsport Volunteer Sheri Marceau is one of the many volunteers who have helped the program reach a surplus. Photo by Chris Dawson.
Winners fo the 50/50 at a Battalion game feel more like they have won the lottery than winning a simple 50/50 draw these days at Battalion games in Memorial Gardens.
That's because the prize money has jumped to nearly $7,000.00 per game in the playoffs as the Battalion return to Memorial Gardens ice for Game's 3 and 4 in North Bay on April 22nd & 23rd in the Eastern Conference Final against the Oshawa Generals.
The Chair of KidSport North Bay, Dave Mendicino only describes this year's partnership with the Battalion as "awesome."
The organization raises funds locally to assist families with registration or equipment dollars to help their kids get involved in organized sports in the city.
"The numbers you see here have just taken us into a completely different level with respect to money we are able to bring in to help fund the program," said Mendicino.
The numbers are impressive.
Mendicino says the organization budgeted for roughly $70,000 to $80,000 in funds this season from the Battalion games.
After the 2nd round of the playoffs Mendicino says they are around $130,000.00 raised.
That's a big surplus which Mendicino says will have a big impact on the local program.
"The money insures the program will continue to thrive for many years and now we are looking at expanding the number of kids we help," said Mendicino.
"We are looking to make a media blitz to get the message out about KidSport and get the message out that we can help more kids. It allows us to expand both in numbers and dollars we are able to contribute," Mendicino said noting they have already expanded into helping rep hockey players.
Mendicino credits the more than 45 volunteer 50/50 ticket salespeople for making a difference.
Without them he says this money could never have been raised.
"The program can't go without the volunteers they have been amazing to work with and have picked it up a few notches," said Mendicino.
But of course this money couldn't have been raised without the North Bay Battalion.
"The Battalion have been extremely community minded and certainly from Kidsport we see that," said Mendicino.
Battalion President Mike Griffin is thrilled with the partnership.
"When we discussed granting the 50/50 rights to KidSport I only made one condition... get enough committed volunteers to make it successful enough so there would be no underprivileged kids in North Bay who couldn't play sports... congrats for a job well done," said Griffin, who added the Battaliom make no money off this arrangement.
The criteria for financial assistance from the program has been a minimum of $50,000.00 per household, but that has been bumped up to a minimum of $60,000.00 per household to access the funding.
For more information on KidSport local you can email kidsport@cityofnorthbay.ca or call (705) 474-2328.